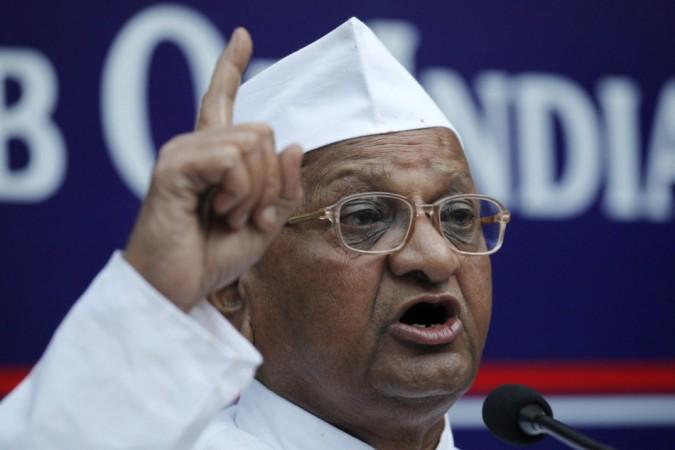 Team Anna on Saturday demanded probe into allegations of corruption charges against 15 cabinet ministers, including Prime Minister Manmohan Singh.
Team Anna raised the demand after releasing a report on corruption charges against the ministers and the prime minister. The report accuses the Prime Minister based on a draft Comptroller and Auditor General (CAG) report which indicated that the allocation of coal blocks to companies without auction by the coal ministry, which was under the PM's responsibility during the period between 2006 and 2009, had caused the exchequer a loss of Rs 10.6 lakh crores.
Finance Minister Pranab Mukherjee also faces charges for not taking action against people who allegedly took kickbacks in the Rs 180 billion (18,000 crore rupees) Scorpene deal and those involved in the Navy war room leak.
Besides the Prime Minister and the Finance Minister, Team Anna has demanded investigation against ministers including Home Minister P Chidambaram, Telecom Minister Kapil Sibal and External Affairs Minister SM Krishna.
Others in the list include Law Minister Salman Khurshid, Urban Development Minister Kamal Nath, Heavy Industries Minister Praful Patel, Food and Agriculture Minister Sharad Pawar, Minister for Science & Technology Vilasrao Deshmukh, Small and Medium Enterprises Minister Virbhadra Singh, Union Shipping Minister GK Vasan, Fertilizer and Chemical Minister MK Alagiri, Minister of New & Renewable Energy Farooq Abdullah and Power Minister Sushil Kumar Shinde.
Team Anna has demanded the creation of a team with six retired judges including Justices J S Varma , M N Venkatchaliah , both former chief justices apart from Sudarshan Reddy, A K Ganguly, A P Shahto Kuldeep Singh to investigate the allegations of corruption charges.
While speaking to reporters on Saturday, team Anna member and close aide to Anna Hazare, Prashant Bushan, said that they have sent documents regarding the ministers to the Prime Minister. They have sent 79 "chargesheets" along with a letter addressed to the PM and also set June 25 as the deadline for the government to act on their demands, according to a report in DNA.
"We want setting up of a special investigation team which would probe the charges against the ministers within six months. If such a probe is not initiated, we will launch a nationwide movement on July 25," DNA quoted Arvind Kejriwal, Anna team member, as saying.
Meanhile, External Affairs Minister S M Krishna has rejected all allegations raised against him by Team Anna. In a notice sent to Arvind Kejriwal, Krishna has mentioned the matter was sub-judice and the Supreme Court had put a stay on the issue.
He also added that he would file a defamation case agaisnt Kejriwal if he is not getting any satisfactory reply. However, team Anna has denied getting any notice from the External Affairs minister.