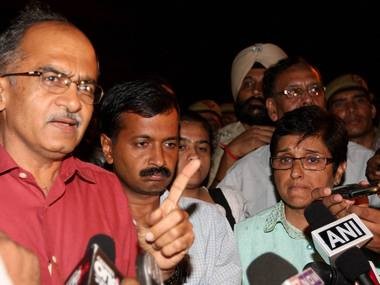 As Anna Hazare's fast entered 10th day on Thursday, both the government and the Team Anna accused each other of being rigid and stubborn.
"It appears that there are some strong elements in the government who wants to nullify the entire dialogue process," said Anna's aide Arvind Kejriwal.
"We are becoming victims of Congress' internal politics. Day before yesterday, the talks were positive, but in the CCPA (Cabinet Committee on Political Affairs) meeting, Salman Khurshid told us that there was lot of fighting. Chidambaram and Sibal said there should be no dialogue with us and we should be tackled with a tough hand," he alleged.
"CCPA and government can ignore the views of a senior leader like Pranab Mukherjee, than the question is 'who should they talk to'," Kejriwal asked.
Anna's another aide Kiran Bedi expressed her confusion saying that "Who should we talk to?"
"Who is in control? We can talk only if there is somebody who is capable of making decisions," asked Kiran Bedi.
"Yesterday the sense of urgency to break Anna's fast in government talks was totally missing as compared to the one evening earlier," she alleged.
"The government is willing to talk. We are talking to them. If they have doubts, find somebody else," said Law Minister and one of the government negotiators Salman Khurshid.
Meanwhile, Finance Minister and government's chief negotiator Pranab Mukherjee reassured team Anna "We are ready to discuss with them. But we can find a way out. We will try to do that."
"There is no question of we are not being concerned. We are deeply concerned about Anna Hazare's health," he retorted refusing the charges by Team Anna that he is not concern about Anna Hazare's health.
"Prime Minister Manmohan Singh has appealed to Annaji to end his fast. The all party meeting has also made a similar appeal. They are putting words in my mouth. I am repeatedly making appeal end his fast," he added.