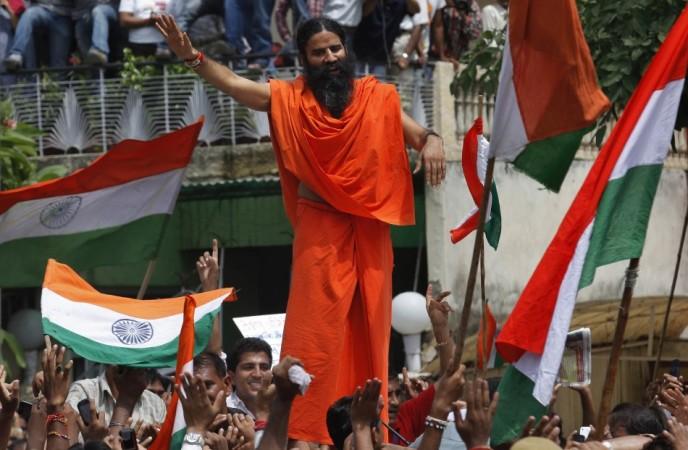 Two days after anti-corruption crusader Anna Hazare and Yoga guru Baba Ramdev held a joint fast against the "corrupt" UPA government, it seems a drift has occurred between them following Ramdev's opposition to Anna team member Arvind Kejriwal in taking individual names on graft charges.
On Monday, Ramdev snubbed Anna team member, Arvind Kejriwal for taking individual names saying that the fight against corruption was not aimed at any individual.
Speaking to IBN18 Editor-in-Chief Rajdeep Sardesai, Ramdev said: "When individuals are associated with issues, political parties will start doing their own thing. It will be deviated from the issues to the individuals. When we mention individuals, we will deviate from black money or a strong Lokpal."
While Ramdev has been busy meeting political leaders to seek support for his fight against black money stashed away in foreign countries, Anna Hazare has supported his team members and attacked Prime Minsiter Manmohan Singh directly on allegations of graft charges.
Ramdev met BJP President Nitin Gadkari to seek his support for his movement to bring back the black money stash.
Gadkari extended the BJP's support to Ramdev saying, "Baba Ramdev's fight against black money is very important. We as the BJP party support Baba Ramdev in this andolan. This is an agitation above party lines, this is for the benefit of the country," according to IBN Live.
Ramdev has also sought appointments from Congress chief Sonia Gandhi and other leaders including Lalu Prasad, Mulayam Singh Yadav, A B Bardhan and Sharad Yadav.
"I have written to Sonia Gandhi to meet her. I have sought time from all the political parties to seek their support," Ramdev said.
Meanwhile, Anna Hazare has said that he is now suspicious about the prime minsiter's honesty after reading the documents prepared by the team. This is the first time that Hazare has attacked the PM.
In a reply to Sonia Gandhi's claims that the corruption allegations posed by Team Anna against the UPA government were baseless, Hazare said that the team will send her a file containing proof regarding the graft charges.
After a day-long core committee meeting, Hazare told reporters that if the government fails to set up a team to probe into the corruption allegations against 14 cabinet ministers and the prime minister by July 24, they will start a fresh protest on July 25.
Moreover, in a patch-up bid, both Hazare and Ramdev are said to have vowed to support each other's protests although they will head for separate anti-graft protests. Hazare said that Ramdev has been invited to attend the protest from July 25, adding that Team Anna will also take part in the August 9 protest called by Ramdev in bringing back the black money.