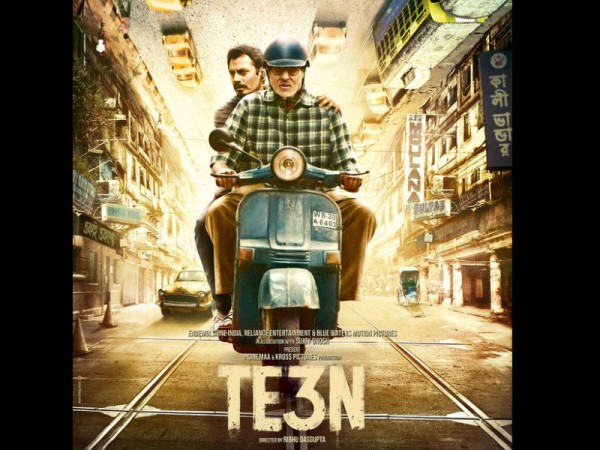 The trailer of the movie "TE3N," starring Amitabh Bachchan, Vidya Balan and Nawazuddin Siddiqui, is out. Directed by Ribhu Dasgupta, the film is a suspense thriller, and the trailer of the film looks impressive.
The trailer gives a glimpse of the film's story, in which Amitabh's granddaughter, Angela, gets kidnapped and remains missing eight years after the incident. While Big B is still in search of the child, another young girl goes missing in the same fashion.
Nawazuddin plays the character of a policeman, who eventually turns into a priest, apparently after failing to bring back Angela. Vidya too is a police officer, who is in charge of the second kidnapping case. Whether the culprit gets nabbed or the two children remain unfound is the crux of the story.
The trailer of "TE3N" is fast and intriguing. With stars like Amitabh, Vidya and Nawazuddin, viewers can expect some brilliant performances in the movie. One of Amitabh's earlier movies, "Ek Ajnabee," had also revolved around the kidnapping of a little girl. However, the superstar had played the character of the victim's bodyguard in "Ek Ajnabee."
Shot in Kolkata, the film's trailer has a couple of elements that bring out the fervour of the "city of joy." The launch event of the trailer was held in Mumbai, where the actors described the experience of working with each other. The film is slated to be released on June 10.
"I am delighted to work with Vidya and Nawaz. I get to learn so much from artists like them. I love learning the craft from young talent. I admire the way they approach the scenes," Hindustan Times quoted the Big B as saying at the event. "When I looked at him (Amitabh), I felt that he was the character and that really amazed me. The script was another reason why I signed the movie," Vidya said. Check out the trailer of "TE3N" below: