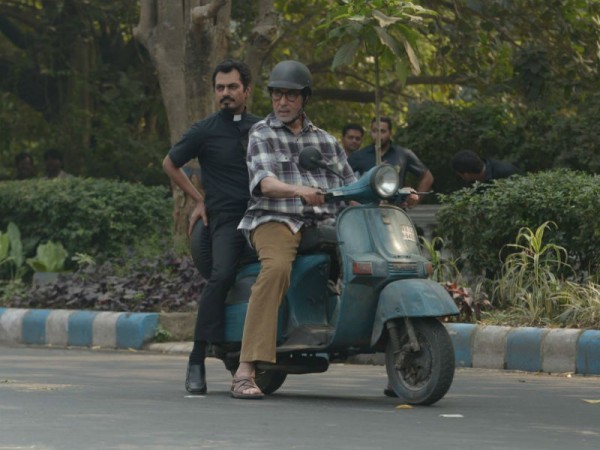 IBTimes Review: 3.5
Comeuppance is a theme rarely explored in Hindi cinema: It usually serves as a cursory tool to bring the climax of a film to an end. The baddie is defeated, justice is served, and all is well. Not with Ribhu Dasgupta-directed "Te3n," though. Each person gets some closure, but within it is hidden comeuppance in some form.
The film, which gives its nod to the Korean flick "Montage" in the opening credits, has a lot of things going for it. But it has a lot of things going against it as well. So while Amitabh Bachchan as John Biswas is quite a force, his hunched, near-apish gait and raspy voice -- both coming forward as attempts to portray him as a tired old man -- seem somewhat forced. Nawazuddin Siddiqui as the cop-turned-priest is his usual brilliant self, except for when he is being made to state the obvious. Vidya Balan and Sabyasachi Chakrabarty are not all that utilised, even as their talents scream for more scope.
And that's somewhat of a pity. Dasgupta has earlier worked with both Amitabh and Nawazuddin and several members of the crew in the TV series "Yudh" and Sabyasachi in "Michael." Their understanding does firm up the film in many parts, but "Te3n" needed still some more tightening.
Probably the biggest disappointment is that Dasgupta fails to utilise the character that a city like Kolkata has, something "Te3n" producer Sujoy Ghosh had done beautifully in his directorial "Kahaani."
The pace of the film is slow, but it keeps the audience rooted, as nary a scene goes that should not have been shown. The screenplay seems haphazard at times, and the plot has enough holes to make a sieve, and yet, whatever of these elements is there in the film is still enough to make for an engrossing watch.
The story: John looks for the man who kidnapped his granddaughter, whose death he blames on the police, or more specifically, Martin, eight years later the grandson of another man (Sabyasachi) gets kidnapped in the same fashion, prompting the cop (Vidya) conducting the investigation to harken back to the old case. The premise sounds intriguing, the film plays out interestingly, and the ending is bittersweet -- to say the least. Without spoilers, at least. Suffice to say that no extra characters are added to the mix.
And it is this manner in which the film ends that makes one replay it in their mind over and over again, each time with mixed feelings and more emotions. That some huge plot holes persist even as the end credits roll are secondary.