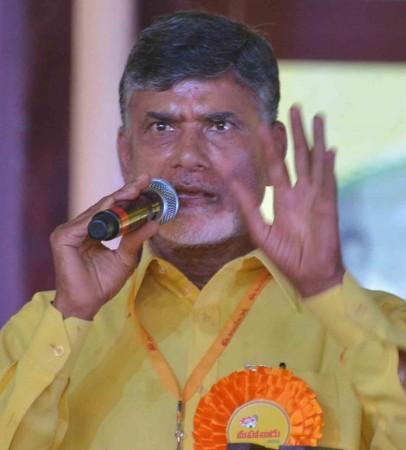 Telugu Desam Party's annual three-day conclave Mahanadu concluded here on Tuesday. As many as 35 resolutions were put for discussion in these three days. Eight were passed on day 1, 14 on day 2 and 13 on day 3. Eight resolutions concerned with Telangana while five with the central government.
On the last day, the TDP conclave discussed on the following resolutions: Andhra Pradesh as knowledge state and education hub, health security for all and new policies in the medical sector. TDP used its annual meeting as a forum to intensify its fight against the central government.
The party chief gave a clarion call to the cadre to strive for party's victory in all 25 parliamentary constituencies in the state in 2019 general elections so that TDP can be the deciding factor in choosing the next prime minister.
"TDP has to win all the 25 MP seats in the state. Then only we can decide the central government. If we don't win all MP seats, we won't have a word at centre. We have to get all support from the centre, as it is our right. But our development or welfare will not halt until support comes from above. TDP's victory in 2019 is a historic need. So all of you have to work hard, make it possible. We should be able to teach a lesson to the central government that their whims will not work. You have to create awareness among the general public about the conspiracy politics by BJP along with other parties in our state (YSRCP and JSP). They play divisive politics on the name of caste and religion. All castes and religions are equal for our party. You have to spread that word among the people. We have served all castes with separate corporations. Our party's only caste is poverty. We serve poor people irrespective of which caste he comes from. Many have asked me why I did not come out of NDA in the first year itself. Had I done that, the centre would have kept on troubling us all these years. I took right decision at right time," said Chief Minister Chandrababu Naidu.
Source: ANI