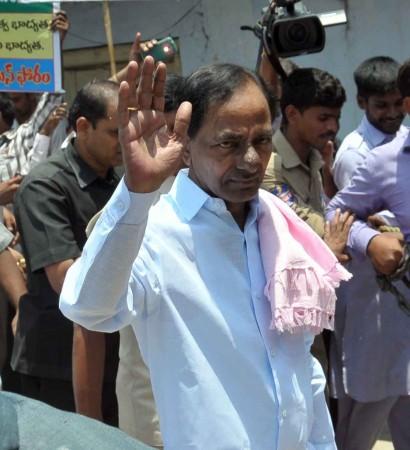 The Telugu Desam Party (TDP) on Monday filed a number of complaints against Telangana Chief Minister K Chandrasekhar Rao and others for illegal tapping of Andhra Pradesh CM Chandrababu Naidu's phones in connection with the cash-for-vote scam.
Vizag-based advocate NVV Prasad lodged a complaint against KCR for allegedly tapping Naidu's telephonic lines and violating the latter's basic rights. The police have registered FIR under Sections 464, 647, 471, 166, 167 and 120/B of the Indian Penal Code, PTI reported.
Separate complaints were filed against the officials of Telangana Anti-Corruption Bureau (ACB) and some TV channels by various complainants, including Irrigation Minister Umamaheswara Rao and some legislators.
The complaints were registered at different police stations in Krishna, Guntur, Visakhapatnam and West Godavari districts of Andhra Pradesh, according to an IANS report.
The TDP took the legal action against KCR and his government after they released a purported conversation between Naidu and nominated MLA Elvys Stephenson in an audio tape, which was aired on local television channels on Sunday night.
In the audio, TRS claims, Naidu lured Stephenson to vote for the TDP-BJP candidate in the Telangana Legislative Council elections.
However, the TDP government has said that the voice in the audio tape is not of Naidu and that it was fabricated to defame the Andhra CM.
The Telangana ACB had earlier caught TDP legislator A Revanth Reddy offering ₹50 lakh to Stephenson to persuade him to vote for the TDP-BJP candidate in the legislative council elections. The bureau later arrested Reddy's aides, Sebastian Harry and Uday Simha.