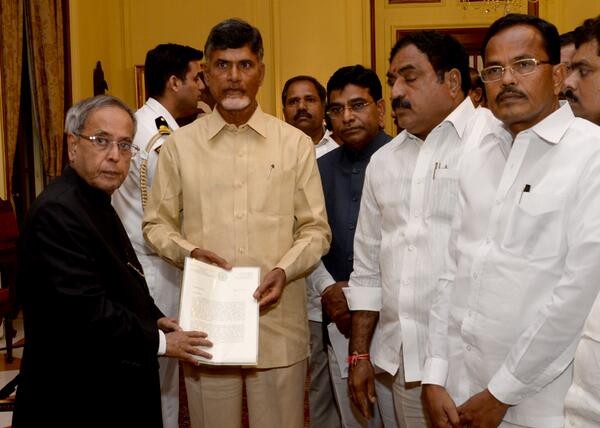 Telugu Desam Party (TDP) president Nara Chandrababu Naidu was sworn in as the Chief Minister of Andhra Pradesh for the third time at a function organised on a 70-acre open space opposite Acharya Nagarjuna University, near Mangalagiri in Guntur district on Sunday, 8 May, at 7.27 pm.
About five lakh people, including political leaders, union ministers and chief ministers of several states, attended the function.
Andhra Pradesh Governor ESL Narasimhan administered the oath of office to Naidu, as party workers and people cheered him loudly. Along with Naidu, a 19-member council of ministers also took oath at the venue.
Bharatiya Janata Party veteran LK Advani, party president Rajnath Singh, Union ministers M Venkaiah Naidu, Ananth Kumar, Kalraj Mishra, Prakash Javadekar and Nirmala Sitharaman also attended the function.
Chief Ministers -Parkash Singh Badal of Punjab, Manohar Parikar of Goa, Vasundhara Raje Scindia of Rajasthan, Raman Singh of Chhattisgarh and TR Zeling of Nagaland were present along with senior BJP leaders Murli Manohar Joshi and several others.
However, Prime Minister Narendra Modi could not attend the function due to engagements with the ongoing Parliament session.
"As Chandrababu Naidu takes oath as CM of Andhra Pradesh (Sunday) this evening, I convey my best wishes to him and his team in developing the state.The Centre is committed to extending all possible help to the people and government of Andhra Pradesh," Modi tweeted.
Members of NTR family, including Junior NTR and Kalyan Ram, also made an appearance. Among key dignitaries, Badal was the first to reach Gannavaram airport, near Vijayawada. Later, Jana Sena founder and Tollywood actor Pawan Kalyan arrived and was given a warm welcome.
The Vijayawada-Guntur stretch wore a festive look decked with festoons.
Naidu's 19-member council of ministers include:
KE Krishnamurthy-Pathikonda MLA
Yanamala Ramakrishnundu- MLC
Nimmakayala Chinarajappa-Peddpuram MLA
Ayyanna Patrudu- Narsipatnam MLA
Bojjala Gopalakrishana Reddy-Srikalahasti MLA
Devineni Uma Maheswara Rao - Mylavaram MLA
Narayana- Nellur MLA
Partala Sunita -Raptadu MLA
Pathipati Pulla Rao-Chilakaluripet MLA
Kamineni Srinivasa Rao-Kaikaluru MLA
Ganta Srinivasa Rao-Bhimili MLA
Palle Raghunatha Reddy-Puttaparthi MLA
Peetala Sujata-Chintalapudi MLA
Kinjarapu Achchennayudu-Tekkali MLA
Sidda Raghava Rao-Darshi MAL
Kimidi Mrinalini - Cheepurupalli
Kollu Ravindra - Machilipatnam MLA
Ravela Kishore Babu -Pathipadu MLA
Manikyala Rao -Tadepalligudem MLA