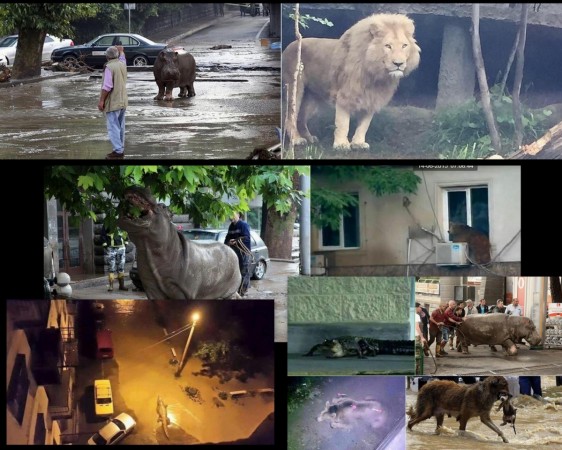 Tbilisi, the capital of Georgia was put under lockdown as dozens of wild animals, including lions, tigers, wolves, alligators, bear and a hippopotamus, escaped the city zoo after the massive floods in the city destroyed its enclosures.
After the torrential downpour, low-land areas of the city of Tbilisi has faced flooding that has destroyed numerous buildings and killed at least a dozen people. According to the Russia Today, the death toll so far stands at 11 and at least 10 are said to be missing. A few of the dead include zoo workers, who reportedly were trying to save the animals.
There also have been reports of landslides in Tbilisi's suburbs. Amid the chaos, at least 30 dangerous animals were able to escape into the city after the heavy rain, according to The Daily Mail.
Photo reports on social media show at least six dead wolves in the back of the truck. They were reportedly shot after they being found dangerously close to a children's hospital in Tbilisi.
Six lions, eight bears, six tigers and a dozen wolves have fled from the zoo. Images on social media show a giant alligator wading through the flooded streets of the city, while another image shows a bear seeking shelter on an apartment's air conditioner installed near the window.
At least one hippopotamus and a bear were tranquilised and captured by the zoo authorities from residential areas. However, many dangerous animals are said to be still free.
The former Soviet republic's capital, which is home to some 1.1 million people, is currently under lockdown and police personnel on helicopters are circling the city assessing the situation.
Tbilisi Flood Twitter Pictures
Cc @lulu_luwela "@russian_marke #BREAKING Jumanji situation in Tbilisi after animals escaped from the Zoo after flood pic.twitter.com/jOAbA4b7GG

— Worship (@wfreemantle) June 14, 2015
Police & choppers continue to search for escaped zoo bears and lions in #Tbilisi. Vere river still a raging torrent pic.twitter.com/sb7Mtob3VB

— Peter Schwartzstein (@PSchwartzstein) June 14, 2015
In my 20 yearas of life I can't remember flood like this in #Tbilisi Animals run out from Zoo+ pic.twitter.com/u1BGKL5km5

— TamoTsertsva (@TamoTsertsva) June 14, 2015
Zoo animals on the loose after #Tbilisi floods http://t.co/gIppdSSpOf pic.twitter.com/R4lnA6pYpq

— Ursula Kaczmarek (@ursulakaczmarek) June 14, 2015
Tigers, lions, bears, wolves and a hippo roaming streets of #Tbilisi after zoo suffers severe flood damage pic.twitter.com/tRTeGY3ADW — CCTVNEWS (@cctvnews) June 14, 2015