The video of Taylor Swift's latest song, Look What You Made Me Do dropped on Tuesday at the VMAs. Many have attempted decoding the lyrics to speculate that one song, in which Swift has not only attacked Kanye West and Katy Perry, but also criticised the media.
But now, the new video has stunned everyone because the country singer is seen in many of her older avatars and she is seemingly dissing the old Swift. While there are several memorable moments from the four-minute song, there is one particular scene that caught people's attention.
Also Read: Who is Taylor Swift's 'Look What You Made Me Do' dissing?
Half minute into the song, the Shake It Off hit-maker is seen in a bathtub full of precious stones, mostly diamonds, singing the first stanza of the song. Though the scene lasts hardly for a few seconds, sources close to the singer reveal that there were jewellery pieces in that bathtub that cost $10 million each.
According to Hollywood Life, Swift raided celebrity jeweller Neil Lane's diamond collection to fill her tub in video. "Taylor's stylist Joseph Cassell Falconer literally cleaned out the store. That tub contains multimillion dollar pieces. Two chains alone cost about $10 million. They took everything for this video," a source informed Hollywood Life.
Many suggested that the particular scene looked like a diss at Kim Kardashian's Paris robbery. Lane also revealed that his team went all out to help the singer create the particular scene.
"I had to go to the vault for this one. They wanted an over-the-top, glamorous look so we gave them unprecedented access to my collection. And WOW what an amazing turnout, diamonds have never looked better!"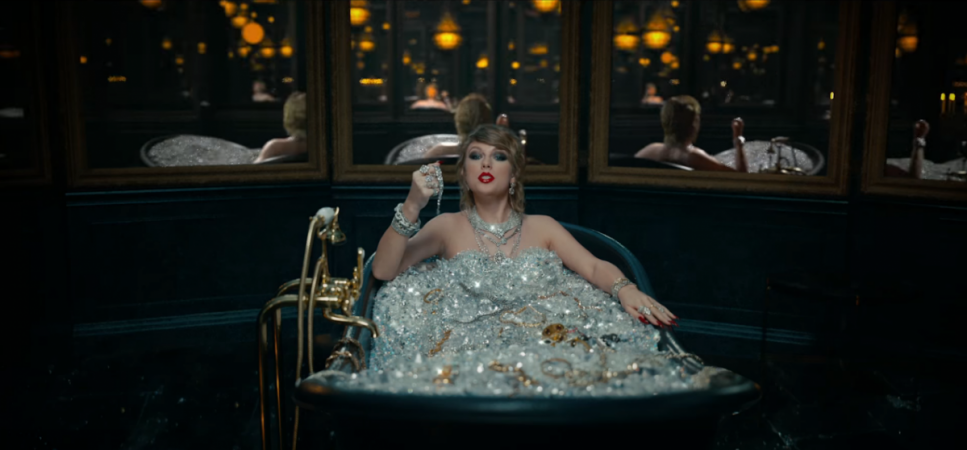 Swift's diamond bath has some chunky diamond necklaces, a few she is seen wearing, over-the-top diamond and gold bracelets, statement pieces and some just plain diamond rocks. There is a single dollar bill lying in the pool, signifying her dollar win in the groping case last month.
Apart from being covered in rocks, Swift is also seen sporting some heavy diamond necklaces, huge stone studded earrings, some diamond rings on almost every finger and bracelets on both her wrists.
Ever since its release, LWYMMD has been smashing streaming records and fans are conspiring theories to understand how many people and incidents Swift has referred to in the song video. While the video is amazing, the song's lyrics haven't been received well by critics. Let us know what you think about song in the comments below.