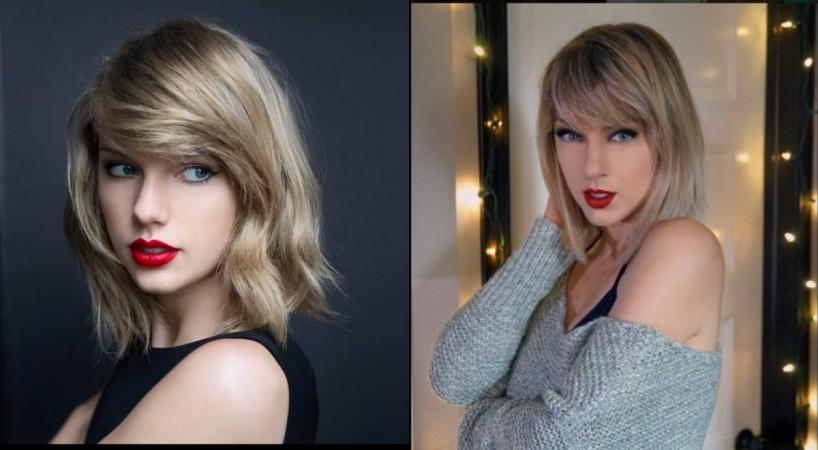 Recently, the Internet went bonkers when Reese Witherspoon posted a picture of herself with her daughter and fans couldn't identify the difference between the two. Another celebrity lookalike has driven social media platforms into frenzy. An Instagrammer by the name of April Gloria began sharing pictures of her dressed in attires from Taylor Swift songs and now, the Internet cannot tell the difference.
Also see: HBO Big Little Lies premiere: Kathreen Khavari stages anti-Trump protest; Reese Witherspoon shares pictures of her twin [PHOTOS]
A resident of Kansas, April is a cosplay artist who recreates a number of artists for about three years now (according to her Facebook page). Despite her numerous cosplays, April looks exactly like Taylor Swift. The pictures she shared on her social media platforms urges people to look twice before actually recognizing her.
She shares the same blue eyes as the Bad Blood singer; their heights resemble and guess what! She has a cat too, who suspiciously looks like the one Swift has. April already has over 62,000 followers on her Instagram page.
While there has not been a retweet/reaction from Taylor Swift, twitter and internet is flooded with all sorts of reactions.
From Instagram:
Thi Nguyen: damn I thought it was her (Taylor Swift)
Julialanzillotta: omg this is insane
Laura: her lips are not quite there but her hair and eyes are spot on!
Kyla Matias: Now that's a real doppelganger, she looks like Taylor swift's clone
Ava: DNA TEST TAYLOR AND U NOWWWWW
Abbi Maak: this girl looks more like Taylor Swift than Taylor Swift
Crystal Singleton: U look just like taylor even when u don't dress like her!
From Twitter:
@aprilgloria @taylorswift13 doppelgänger comment> if u aren't already, you could probably make so much $ as a lookalike ?

— Madeleine Rose (@zhiana) January 13, 2017
@aprilgloria
I'm really sorry but when I 1st saw this pic my 1st thought was "I don't follow Taylor Swift, what she doing on my feed?"
?

— It's Mr. Beamish (@Beamish23) January 13, 2017
So what do you think Taylor Swift will react? The singer is currently busy enjoying the success of her song Fifty Shades Darker, which ranks at number 3 this week on the Billboard Top 100.
What are your reactions? Do you think you can tell the difference between April and Taylor? Let us know in the comments.