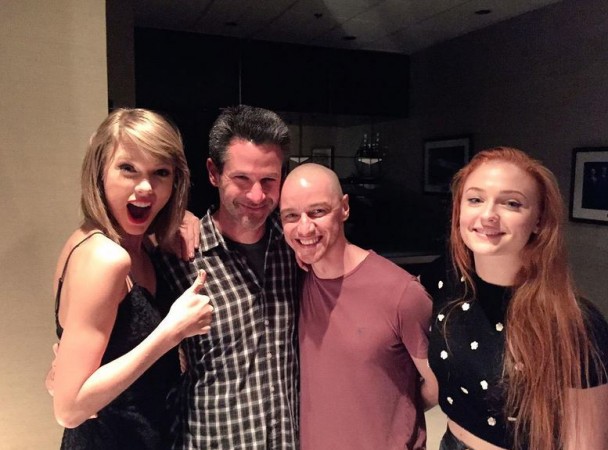 Taylor Swift has already taken the music industry and the Grammy world by storm. And now, the "Bad Blood" singer is all set to grab a few Oscar's, it seems.
If latest rumours are anything to go by, it looks like Swift will be joining the cast of "X-Men: Apocalypse".
The "Blankspace" singer has already been part of movies such as "Valentine's Day" and "The Giver", and now Tay is apparently on the verge of bagging a role of a lifetime. At least this is what we could make out from a photo that the producer of "X-Men: Apocalypse" Simon Kinberg posted.
Kinberg shared the photo of himself along with Swift, Sophie Turner (Jean Grey) and James McAvoy (Professor X, with head freshly shaved) via Twitter and captioned it, "Haters gonna hate."
Now, the photo doesn't really say anything about the singer joining the cast of the film. And many think this excitement could just be because Taylor Swift is a huge "X-Men" fan.
Though there's no confirmation or indication that the singer would officially be cast in the film, Swift's fans are jumping to all sorts of conclusions. Most of them think that the photo is a sure shot proof of Tay will play Dazzler.
Dazzler (Alison Blaire) is a superheroine, who first appeared in Uncanny X-Men #130 (February 1980). She is a mutant with the ability to convert sound vibrations into light and energy beams. Dazzler was originally commissioned as a disco singer and the character slowly shifted to other musical genres.
Now we know why Swifties feel Taylor will be a perfect choice for the role. So, is it possible that Taylor will be the Dazzler in "X-Men: Apocalypse"?
Well, we will have to wait to hear it from either Simon Kinberg or Taylor Swift herself to confirm the casting rumour around "X-Men: Apocalypse", which will hit theatres on 27 May, 2016.