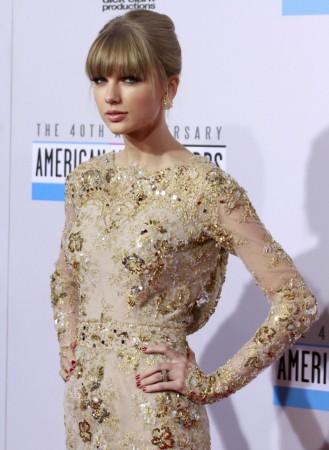 Country singer Taylor Swift was named the "best-mannered person" by the National League of Junior Cotillions (NLJC), while Prince Harry of Wales turned out to be the "most ill-mannered person" of 2012 for disregarding his prestigious title by his public misbehaviour.
[PHOTOS OF BEST-MANNERED PEOPLE OF 2012]
NLJC is a national organisation that trains and licenses directors to establish local cotillion programmes. Cotillion students and directors nationwide nominate individuals for the "Ten Best-Mannered People" award.
Taylor Swift tops the "Ten Best-Mannered People of 2012" list, which also includes names like Justin Bieber, Kate Middleton, Michelle Obama and Daniel Radcliffe.
"The annual selections are based on the demonstration of dignity, honour, and respect," said Elizabeth Anne Winters Russell, NLJC National Director. "Taylor Swift was chosen for the exemplary manner in which she has conducted herself, on and off stage as a musician and song writer."
Here is the list featuring the best-mannered individuals of 2012, selected by NLJC.
1. Taylor Swift - for inspiring young people with her music and her manners.
2. Rory McIlroy - for displaying good sportsmanship on and off the golf course.
3. Robin Roberts - for the respect she shows others as a network host and for extending warmth and kindness to "Good Morning America" guests.
4. Gabby Douglas - for demonstrating humility and politeness as a young Olympic athlete.
5. Justin Bieber - for consistently showing courtesy to his many fans.
6. Matt Damon - for being a positive role model in Hollywood to younger generations.
7. Kate Middleton - for the poise and dignity with which she conducts herself in the public spotlight.
8. Drew Brees - for being a positive example for young athletes.
9. Michelle Obama - for her positive encouragement of a healthy lifestyle to youth.
10. Daniel Radcliffe - for the kindness extended to his Harry Potter fans.