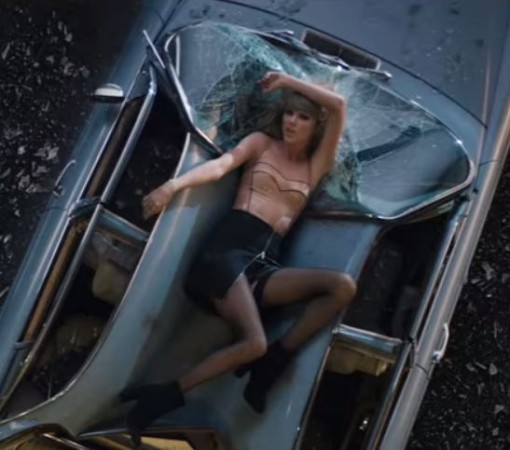 Taylor Swift recently made a huge transaction at a sex shop. The singer borrowed over $13,000 of sexy dominatrix gear for her entire "Bad Blood" music video.
The "1989" star has indeed gone big and bad for her latest video. And it's not just the line-up of celebrities that add to the video's oomph factor, the costumes also make "Bad Blood" look sexy.
Swift premiered her new music video at the Billboard Music Awards on Sunday, and it became one of Vevo's record-breaking videos. It was the most-watched video within a span of 24 hours. As of Friday, "Bad Blood" had already been viewed more than 44 million times.
Is it the flesh-coloured latex outfit that did the trick? Well, it has now been revealed that the sensuous costumes were from an LA-based sex shop, called The Stockroom.
Taylor's flesh-coloured outfit in the beginning of the video, when she's fighting bad guys, retails for $235, while Selena's black latex blouse sells for $360. And, like Taylor's outfit, the other one also comes in 30 colours.
According to Inquisitr, after her $13,000 shopping spree, Taylor ended up keeping $5,000 worth of the clothing.
"Swift's representatives began pulling items for a secret client months ago, but, when the bill grew to surpass $10,000, I asked for the identity of the client. Of the $13,000 worth of clothes borrowed for the video, $5,000 worth of items were kept and purchased by Swift's representatives," Shawn Gentry, store's director of operations, told the website.
He also added that the "Shake It Off" singer had fun browsing through the sex shop.
"She didn't purchase any sex toys or novelty items though. Swift was strictly there for business, not for pleasure. Swift did, however, end up keeping the $5,000 worth of gear and clothing from the shoot," he said.
Now that gets us thinking if she plans to wear it for her new DJ boyfriend Calvin Harris.
Gentry also informed that they plan to make the outfits worn by Swift and Gomez in the video available to the public. "In fact, the store has seen an increase in sales and online traffic since the release of the 'Bad Blood' video three days ago," he said.
And it's not just this, the fetish fashion boutique has also been receiving calls from men requesting to buy items worn by the singers.
"We have suddenly been inundated with phone calls — "usually from men" — asking to buy items worn by Taylor Swift. I don't want to speculate what they want it for," said Gentry.
It looks like the Taylor Swift and Selena Gomez have set a new trend.