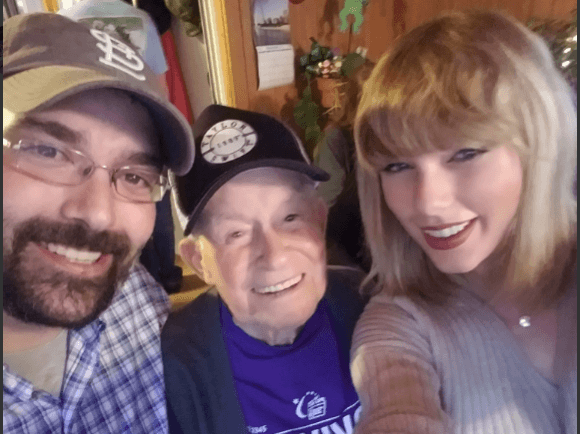 You'd expect Taylor Swift's fan following to be limited to teenagers and maybe 20 somethings. But have you ever thought that a 96-year-old could be one of Swift's biggest fans?
Cyrus Porter, 96-year-old Second World War veteran, is a huge fan of the Love Story singer. And he was in for a surprise on Christmas when he got his very own private performance by Swift in his house.
The Missouri resident clapped along, while the Shake It Off singer strummed her guitar performing her hit numbers for the veteran. Porter grinned at the camera as he posed with Swift and his grandson, Robert Frye. Posting the adorable picture on Instagram, Fyre thanked Swift for the Christmas gift. "My grandpa was so excited!!" he exclaimed.
The singer not only spent time with the 96-year-old veteran, but also mingled with over 60 members of the family for more than an hour. Speaking to E! News, Caroline Fowler, a family member present at the occasion, shared that her 'Popo' was thrilled and grinning with teary eyes.
"The first thing he said to her was 'How did you get here?' He loved every moment. He told her how he was proud of his family, his country and Taylor Swift!" she shares.
In a video posted by another family member, Swift is seen welcomed with roars and cheers. Apart from the photo of his grandpa and Swift, Frye also shared a video of the singer, sporting a grey sweater, performing Shake It Off and grooving with the family, as members of the family sang along.
While it is not clear yet as to how the arrangement was made, the family members share that the veteran had expressed his love for the country singer in an interview KFVS news and the video, which became viral, grabbed the attention of the singer. The veteran has earlier been to two of her concerts.