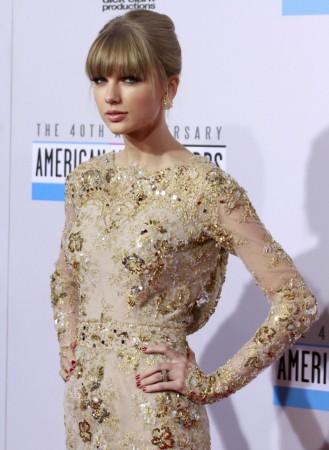 It seems country singer Taylor Swift and One Direction's Harry Styles can't get enough each other as they have been spending lot of time together of late. The latest we hear is that they spent three nights together at a hotel in New York City.
Harry Styles was seen leaving Taylor Swift's NYC Greenwich hotel on Dec. 5, after their third sleepover together. Harry stayed over in Taylor's hotel on Dec. 1, the night before their date at the Central Park Zoo, reported HollywoodLife.com.
"Harry stayed at her hotel on Saturday night. He sneaked in late, and then they went to the zoo together the next day," a source told HollywoodLife.com. "They're cool together. Before they got into their car, some fans asked for a picture and they both got in for one. Taylor was like 'let's all get in for a group shot,'" added the source talking about the date at the Central Park Zoo on Dec 2.
It was reported that Harry and Taylor and taking their relationship seriously, trying to spare time for each other. They have been seen together at public place.
Swift had dated singer Joe Jonas, actor Taylor Lautner, actor Jake Gyllenhaal and Conor Kennedy, the son of Robert F. Kennedy, Jr in the past.