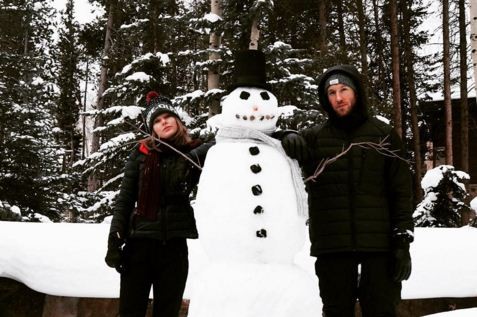 Taylor Swift and Calvin Harris are about to complete a year together and the couple is all set to celebrate their first Valentine's Day with each other. While you must be thinking that the two music stars may have extravagant plans to ring in their first "day of love" together, it looks like the DJ hasn't planned anything to make the "Wildest Dreams" singer feel special on this day.
You must be wondering why Harris, who has always come across as the most romantic guy, isn't doing anything on V-Day for his ladylove. Well, he proved to be a loving boyfriend when he decided to "cat-sit" Swift's cats while she was away on her "1989" tour and recently, he came across as the doting partner when he decided to take the responsibility of Swift's security and asked her to move in with him, after the intruder scare. So why not do something on this "day of love" when it officially calls for it?
Now, hold on before you start assuming that it's a break-up rumour. The "How Deep Is Your Love" hitmaker isn't planning to make the "Bad Blood" singer feel special on this particular day is only because he feels like that about her every day.
"Calvin is not going to change how he feels or treats Taylor just because it is Valentine's Day. He feels that every day is Valentine's Day with her and he will continue to treat her like an angel," a source told Hollywood Life.
"She is going to have a big weekend with the Grammy Awards so he is looking to party with her, have a nice dinner with her and then spend as much quality alone time with her as possible," the source added.
The report also stated that Harris will move ahead strongly in this relationship with Swift, come what may. "He loves her and wants to continue the path the relationship is going on because in his mind it is perfection," the source shared.
Well, it looks like Taylor Swift is in for a big weekend — 7 Grammy nominations and Valentine's Day, and if DJ Calvin Harris plans a special something for her, it will be a bonus.