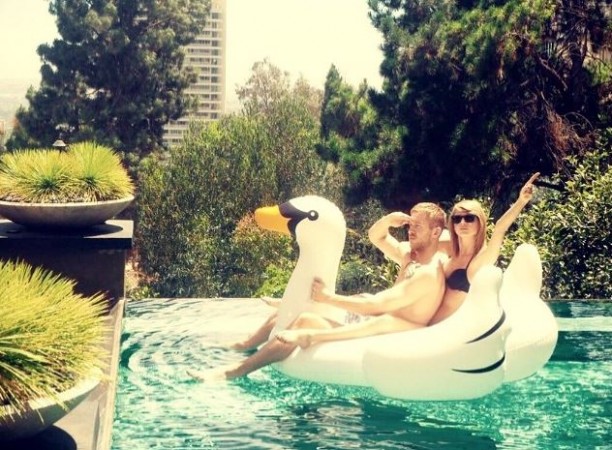 Taylor Swift and her boyfriend Calvin Harris have been packing on a lot of public display of affection, hinting that their relationship has gotten serious. But according to a new report, his anger management issues could spell trouble for the couple's relationship.
According to an OK! Magazine report, the DJ is very short-tempered, and although Swift found it sweet initially, she has now had a change of heart.
Reportedly, Swift took note of his anger issues when he defended her on Twitter when former One Direction singer Zayn Malik bad-mouthed her. He then attacked an Avril Lavigne fan, and this was when Swift decided to intervene.
"At first, it was sweet," a source told the publication, "but now Taylor's told Calvin he needs to calm down and realize that public rants don't solve issues."
There have also been reports on Swift cheating on Harris with a back-up dancer.
"She calls him her 'tour guy,'" The Hollywood Gossip quoted a source as saying. "They've got a ton of chemistry and electricity, and she's been openly flirting with him in front of everyone.
"Some people may see it as innocent, but I think flirting with a handsome guy behind your boyfriend's back is cheating, plain and simple."
Contrary to these reports, a Us Weekly source revealed that a split is the last thing on Swift's mind. Swift is so invested in this relationship that she makes it a point to dress up whenever she goes out to meet the DJ.
"She's head over heels," the source said. "She hasn't been in love like this before! Taylor gets all dressed and glammed up whenever she is going to see him to look her best."
Swift and Harris started dating in April, and the DJ revealed during an interview with KISS FM UK in July that he was very happy with his relationship. At the time, he said she ticked boxes he didn't know existed.