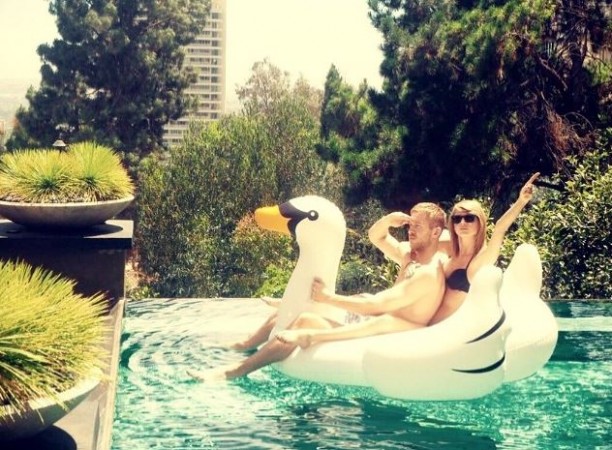 Taylor Swift and DJ Calvin Harris are all set to take their relationship to the next level. After dating for only five months, the couple is already reportedly discussing marriage and honeymoon.
The 25-year-old singer and the 31-year-old DJ have been in the news ever since they met in February. And the pair has gone all out to express their love and loyalty for each other after they made it official in April.
Now, Taylor Swift and DJ Calvin Harris have decided to spend the rest of their lives together, reports Reveal Magazine (via Daily Record). According to the magazine, the couple has apparently discussed their future plans, including the possible location for their wedding and honeymoon as well.
"Taylor would love a big wedding at home but she loved Scotland and could be persuaded to do it there, especially as her family can travel more than his extended family can," a source said.
"They've also talked honeymoons and would love to take a camper van and disappear either in Europe or North America for a while," the source added.
The musician duo, who recently made it to the world's highest paid couples list, has reportedly agreed not to have a pre-nup.
"They both know what they want from the future and having fallen hard and fast, pre-nups and marriage came up in the conversation almost straight away," the source said.
Both Taylor and Calvin's parents have met their child's partner and so, it's not surprising that the couple is considering tying the knot.
But apparently, Tay's parents are worried about the "Bad Blood" singer's decision because she is worth £127million as compared to Calvin's £42million.
Well, it looks like Taylor Swift and DJ Calvin Harris will have some convincing to do.