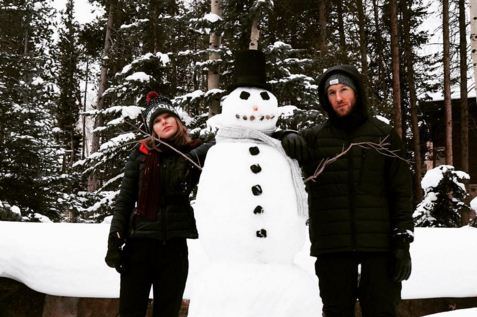 Taylor Swift and Calvin Harris are one of the most followed and adored couples today. But their popularity is now becoming a threat. The "Bad Blood" singer recently suffered a security breach at her Bel Air home, and it looks like the incident has come as a blessing in disguise for the singer's relationship with DJ Calvin Harris.
Swift's security was threatened when a suspicious-looking man was reportedly seen wandering around the singer's driveway. The trespasser, apparently began yelling for her to come outside, but the neighbours notified the cops, who later came and arrested the man.
This sounds scary, but it looks like it was an eye-opener for singer's boyfriend, who is now very serious about Swift's security and has reportedly asked her to move in with him so that he can protect her.
"Calvin was very concerned to learn that Taylor could've come to harm. He told her the simple solution would be to move in with him, so he can protect her and she won't be in any danger," the source told Hollywood Life.
According to the report, the DJ is acting like a doting boyfriend and has even allegedly offered to pay whatever it takes to beef up the security and keep his lady love all safe.
"She has her own security, but Calvin has suggested using more and has offered to pay the bill to keep her safe," the source added.
Clearly, this whole incident has come as a blessing in disguise for Taylor Swift, who is finally getting that extra attention from her boyfriend. She is seeing her relationship go to the next level, with Calvin Harris asking her move in with him officially.