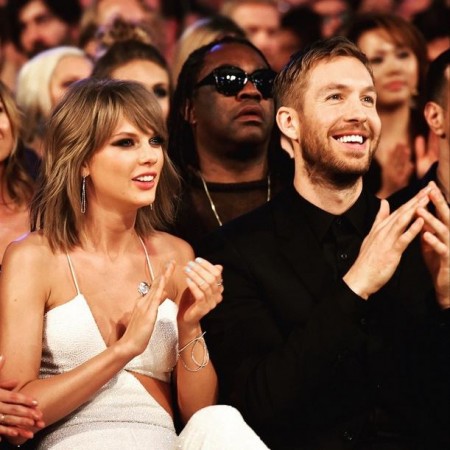 Taylor Swift and Calvin Harris' relationship was back in the limelight when the couple didn't make a red carpet appearance together at the Grammys. So why wasn't the DJ by the "Bad Blood" singer's side at the Grammys? Is Tay's ex-boyfriend, Harry Styles, the reason why "How Deep is Your Love" hitmaker chose to skip a date night with the singer during the event? Such questions have been doing the rounds on the web.
Many fans and onlookers were waiting for one of the most popular celebrity couples -- Taylor Swift and Calvin Harris, to make their first official red carpet appearance at the event. But unfortunately, that never happened as the DJ did not attend the Grammys. This clearly sparked speculations about the status of their relationship.
And while people were still trying to figure out the reason for Harris' absence, Swift took to stage and chose to open the 2016 Grammys with a song about her ex, Harry Styles. It looks like there's no escaping from the past for this singer, even when she is already happily going steady with Harris. Swift could have easily done away with not choosing the song, "Out of The Woods," about the One Direction member to kick off her Grammy performance.
And now, fans think that this could be the reason why the DJ could have decided to give Grammys a skip. Many believe that may be Harris knew about her performance sequence and so, he wanted to avoid the whole sticky situation.
But E! has revealed the real reason behind Harris' absence at the Grammy Awards 2016. According to the website, the EDM artiste was stuck with some professional commitments. The reports said that the big night fell on the night when he just couldn't have got away from the studio.
"He is working and in the studio. Things are great between both of them. Taylor had plans on going with Selena for some time," a source told the website.
It looks like the couple is going pretty strong. So, fans can breathe easy as Taylor Swift and Calvin Harris are not heading for Splitsville.