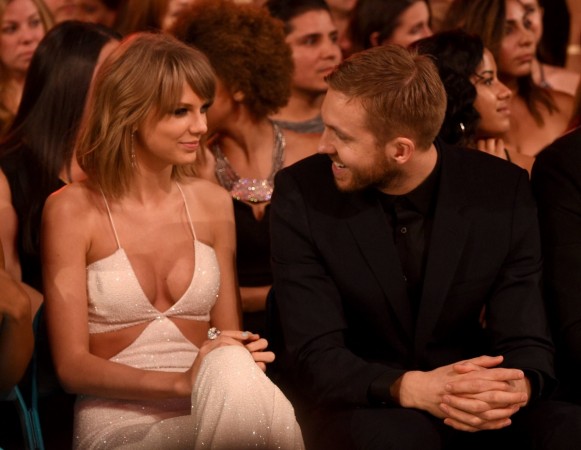 Taylor Swift and Calvin Harris' relationship seemed to be sailing as smoothly as it could. The two look totally into each other, especially after their PDA and evident chemistry at the recently held iHeartRadio Music Awards. But, it's just a pretence and all is apparently not well between the "Bad Blood" singer and the "How Deep Is Your Love" hitmaker.
According to Radar Online, the PDA was actually quite awkward and an eyewitness told the website there is trouble in paradise. "Throughout the three-hour show, Calvin hardly touched her except for when the cameras were on them," the eyewitness reportedly said.
"All night, he looked totally bored, like he didn't want to be there. I didn't see him smile once," the individual added.
While there are reports that suggest the couple was all out there at the event supporting each other and enjoying each other's company, this new report suggests the contrary. In fact, it has been widely reported that Swift gushed about Harris while accepting her Best Tour award, and even referred to him by his real name, openly addressed him as boyfriend , and thanked him in her acceptance speech.
But, the source told Radar Online Harris did nothing of that sort while he accepted his award for the dance artiste of the year. "Taylor was staring at him all googly-eyed, with her hands under her chin. But he didn't even thank her in his acceptance speech. So awkward. Instead, he thanked fellow musician Diplo for nearly 20 seconds of the 45-second speech," the source said.
And when she won the award, the source added: "Justin Timberlake told the crowd to give her a standing ovation. Everyone at her table kept standing and applauding as she walked to the stage, but as soon as her back was to Calvin he sat down! Maybe he was just tired, but it seemed cold."
The source also said things got a bit awkward when Swift's ex-boyfriend Joe Jonas came to perform on stage. The source further pointed out though the couple recently celebrated their first anniversary, it doesn't look like they are that into each other any more. "They did not look like a couple that is head-over-heels in love with each other. Maybe there was something else going on but it was just awkward," the source said.
Now, we don't know whether there's any truth in this new rumour, but it does make you ask whether Swift and Harris PDA at iHeartRadio Music Awards was just eyewash.