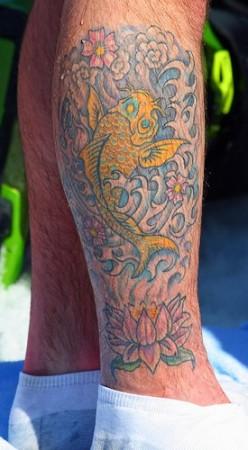 A new study revealed that tattoos can increase the risk of cancer.
Scientists at the Bradford University in the UK found that tattoo inks contained cancer causing chemicals that damaged collagen, a major protein in the human body, The Sunday Times reported.
Nearly 30 percent of the protein content of the body is collagen, which is widely known as the glue that holds the body's cells together. It helps in strengthening skin's elasticity by supporting blood vessels.
The new study found that nanoparticles from the tattoo dye enters the blood stream and accumulates in spleen and kidneys. Both the organs play significant roles in keeping the body healthy by cleaning it. Spleen is a vital organ of the body that helps fight infection and balance body fluids. On the other hand, kidneys regulate water content and remove waste products from the body.
"We need to do more work, but there is no question that these substances can be toxic," Desmond Tobin of Bradford University's centre for skin sciences, who conducted the study with Colin Grant, a medical engineer at the university, told The Sunday Times. "It takes a long time for the multiple-step nature of cancer to show its face. I don't think we should wait 20 years to see if there is anything wrong with these ingredients."
Concerns about toxic chemicals in tattoos emerged in 2011 when studies found that benzo(a)pyrene, a chemical used in black tattoo ink caused skin cancer in animals. Studies have also shown that coloured inks contain heavy metals like lead, cadmium, chromium, nickel and titanium, posing many health risks. According to the Mayo Clinic in the US, tattoo ink can cause allergic reactions, skin infections, bloodborne diseases (tetanus, hepatitis B and hepatitis C). It can even pose problems during MRI examination.
Food and Drug Administration in the US said that contaminated tattoo inks can contain a disease causing family of bacteria called nontuberculous Mycobacteria (NTM). According to them, M. chelonae can increase the risk of lung disease, joint infection, eye problems and infections. FDA received nearly 19 cases of NTM infection associated with contaminated tattoo ink in 2012.
A study conducted by Jorgen Serup, professor of dermatology at Copenhagen's university hospital, detected carcinogenic compounds in 13 out of 21 tattoo inks commonly used in Europe, The Times of India reported.
Tattoo Ink Manufacturers of Europe (TIME) stated on their website that the most difficult problem the tattoo industry faces is that "up to 5 % of the in studios used tattoo inks contain carcinogenic aromatic amines," and that "up to 30 % of the in studios used tattoo inks contain germs, that are classified as hygienic alarming by authorities. Those germs can lead to death in extreme case."
"We want to reduce the number of germs and carcinogenic aromatic amines to zero," their statement read.