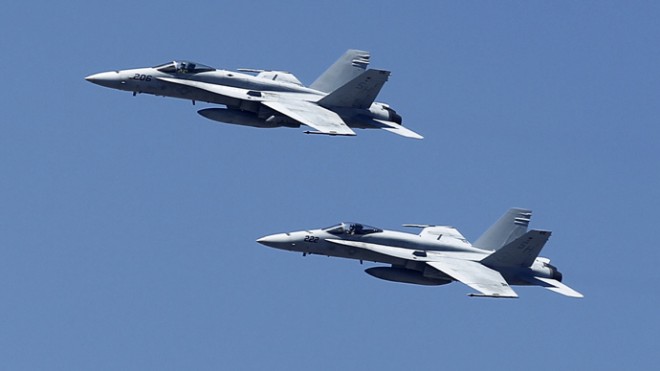 The US warplanes, which launched a series of strikes after the 'go ahead' given by President Barack Obama, has now stopped the Islamic State's advances towards Erbil, while also bringing much relief to the situation of the Yazidis in Sinjar.
The US fighters jets and drones had indulged in a series of attacks on Islamic State on Saturday, to prevent the militants from attacking the Yazidis trapped in the Sinjar mountains.
According to the United States Central Command, American F/A 18 jets and military drones carried out two strikes at around 11:20 am EDT, while a third was conducted around 11:40 am. Later, a fourth strike came at around 3 pm.
In the first airstrike on Saturday, US fighter jets and drones attacked and destroyed an Islamic State armoured personnel carrier, which was firing on Yazidi civilians near the town of Sinjar. In the second strike, two armed carriers and a technical vehicle belonging to ISIS were destroyed.
In the third strike, US aircraft located and destroyed two more additional carriers and an armed truck. And in the fourth strike, one more armed personnel carrier was destroyed near Sinjar.
The US bombings on ISIS artillery started on Friday near Erbil, the Kurdish capital, which is also a major CIA base.
The first major offensive against Islamic State started off with two fighter jets dropping 500 pound laser guided bombs on a mobile artillery piece that was being "used against Kurdish forces defending Erbil, near US personnel," ABC News reported.
The first strike was followed by an armed drone that destroyed the Islamic State mortar position at 10 am EST. An hour later, four F/A-18 aircraft hit a stationary convoy of seven vehicles and a mortar position near Erbil.
Reports, however, remain vague on the number of ISIS militants killed in the airstrikes. CNN claimed at least 14 militants were killed as a direct result of the airstrike. But the same report, citing local Iraqi media, claimed that 45 ISIS men have been killed in the airstrikes.