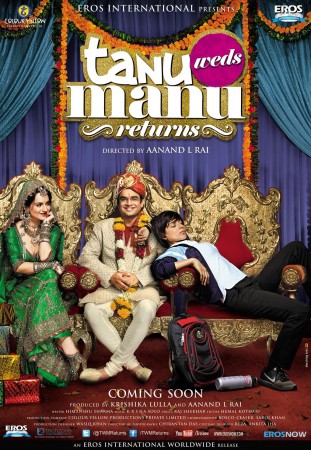 "Tanu Weds Manu Returns" is now the highest grossing Bollywood film of 2015. The movie not only got great reviews from audience and critics, but also made a huge difference at the domestic box office.
The Kangana-Madhavan starrer has made a profit of ₹76.83 crore and the rate of Return on Investment is calculated to be 256.11%, according to Bollywood Hungama.
According to the website, the total making cost of the movie including the production and marketing is rounded as ₹30 crore and the total theatrical collection in India and overseas till 7 June is ₹170.56 crore.
The approximate worldwide distribution share of the film is estimated to be ₹78.83 and adding home video, music, digital and satellite rights, the total recovery of the movie is accounted as ₹106.83 crore.
The detailed business of "Tanu Weds Manu Returns", as per Bollywood Hungama, is given below:
Head
Amount (INR cr.)
Comments
Cost Of Production
20.00
Cost of Marketing (P&A)
10.00
TOTAL COST
30.00
India Theatrical Box Office
128.96
As of 7-Jun-2015
Distributor's share (A)
58.03
Approximately
Overseas Theatrical Box Office
41.60
As of 7-Jun-2015
Distributor's share (B)
20.80
Home Video, Music, Digital & Ancillary Rights (C )
6.00
Approximate
Satellite Rights (D)
22.00
Anticipated
TOTAL RECOVERIES (A+B+C+D)
106.83
PROFIT
76.83
RETURN ON INVESTMENT (ROI)
256.11%
The business of "Tanu Weds Manu Returns" has set a new trend in Bollywood box office. The film had hit screens without any backing from big stars and the reception that it received reminded of the fact that content is the king for any films to make a mark at the box office.
Directed by Anand L Rai, "Tanu Weds Manu Returns" was noted for the performance of actors including Kangana Ranaut, R Madhavan, Jimmy Shergill, Deepak Dobriyal, Eijaz Khan and Swara Bhaskar. The movie is produced by Kishore Lulla and Anand L Rai under the banner of Colour Yellow Pictures.