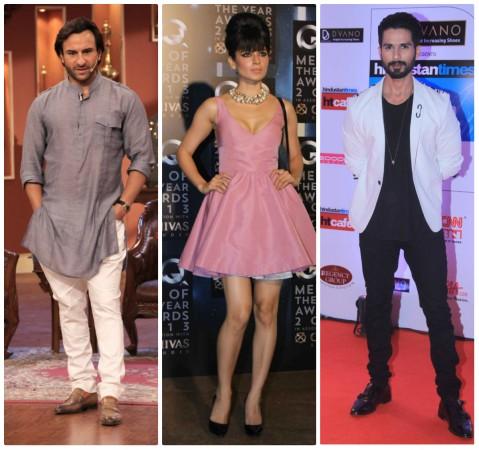 Lately, Bollywood has been offering cine-goers fresh onscreen pairings, and Shahid Kapoor and Kangana Ranaut is definitely one of them.
According to a Mumbai Mirror report, Vishal Bhardwaj has roped in the two brilliant actors along with Saif Ali Khan for his war-romance film "Rangoon".
The ace filmmaker revealed that the "Tanu Weds Manu Returns" actress had been his first choice for the script he has been working on for 7 years now.
Set against the backdrop of Second World War, the story is essentially a love triangle and is somewhat a "Moulin Rouge" meets "Saving Private Ryan".
"If you visit a cemetery in Imphal, Manipur, you will see the graves of so many young soldiers who lost their lives in the Second World War. And the dark irony is that Indians were killimg Indians because some of these soldiers fought for the Brtish army against Subhash Chandra Bose's Indian National Army in Rangoon," Bhardwaj pointed out.
Interestingly, post "Haider", the director had thought of rolling out "Kaminey" sequel, but he couldn't resist the temptation of launching his 'dream project', which also happens to be expensive and a musical.
While the director has worked with Saif and Shahid in "Omkara" and "Kaminey", "Haider", respectively, Kangana is the newest entrant here.
Remembering his Paris dinner with the leading lady, Bhardwaj said he had the finest wines that night after which he decided on pulling her on board.
"She's a brilliant actress and though that night itself we had agreed to work together, I hadn't been sure about my next project then. She was always my first choice for 'Rangoon' but till I could offer it to her, I didn't want to talk about it because I was afraid kissi ki nazar na lag jaye," he concluded.