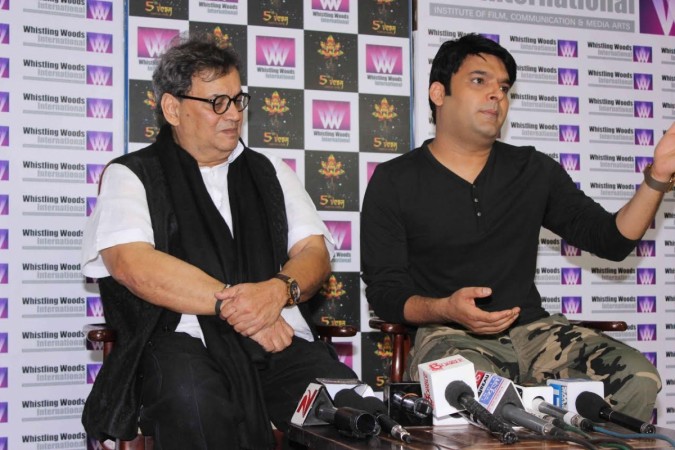 Tanmay Bhat has received a lot of flak for his recent video that showed him mocking Sachin Tendulkar and Lata Mangeshkar. Adding more to the criticisms, filmmaker Subhash Ghai said that the comedian should learn from Kapil Sharma the art of doing comedy without hurting or disrespecting anyone.
Subhash took to Twitter and expressed his displeasure at Tanmay's recent act that has raised several eyebrows. "People of India is terribly hurt by new comedy/jokes on elders icons the inspirations to generations. Learn to respect elders. Stop it here [sic]," he tweeted.
Then Subhash praised Kapil and "The Kapil Sharma Show" tweeting: "Kapil sharma show is most popular comedy show today- has he ever hurt anyone or disrespect seniors icons legends?Let's learn from him [sic]."
Tanmay's video showed the comedian making fun of Sachin's batting styles and Lata's appearance. Tanmay had created the video on Snapchat and had shared it on Facebook with the caption "Sachin vs Lata Civil War (I make such nonsense on my snapchat – follow me there – ID: Thetanmay) (Also I obviously love Lata and Sachin, just having some fun) [sic]."
Although the AIB member had said that he created the video out of jest, fans and many celebrities called it "offencive" and "tasteless." An FIR has also been filed against Tanmay for allegedly insulting the legendary figures.
Tanmay was seen imitating Sachin and Lata simultaneously by a face-swap feature and some of the most controversial punch-lines in the video were: "Lata tai you are 5, 000 years old so stay the phuck out of this [sic]" "Your face looks like someone has kept you in water for eight days [sic]" "Jon Snow died, so you should also die [sic]."