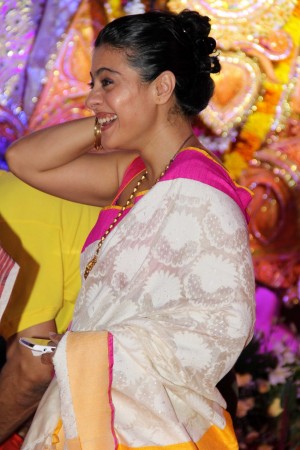 There's no stopping Tanishaa Mukherji these days. The actress can mostly be seen in the company of her boyfriend and fellow "Bigg Boss 7" inmate Armaan Kohli.
Tanishaa and Armaan's love story developed in the Bigg Boss house, and the couple later went on to show up at various events together. There were even hints of an engagement recently as reports claimed that Armaan gifted his lady love a solitaire ring.
However, the couple's equation came under scrutiny yet again, after Tanishaa's elder sister Kajol made her dissent towards the relationship known in a recent episode of "Koffee with Karan" season 4.
But it seems the actress' disapproval hardly matters to her younger sister.
The "Neal N Nikki" actress formally met Armaan's parents and celebrated Holi together on Monday, as per a Mid Day report.
"It was an auspicious occasion, Armaan felt it was an opportunity to invite her (Tanishaa) over and have her take part in the festivities as well. He wanted to formally introduce her to his folks and take their relationship to the next level," revealed a source to the tabloid.
The source further stated that Armaan's parents have given their blessings to the couple, and left it for them to decide on their next move.
So under the circumstances, it can be concluded that Tanishaa is not really bothered about Kajol's disapproval, and seems rather content in her happy paradise.
Previously, reports had pointed out that the actress' mother Tanuja was displeased with her daughter's relationship with Armaan. But the veteran actress eventually accepted him as a part of the family.
It remains to be seen how Kajol reacts, if and when her little sister decides take her relationship with Armaan to the next level.