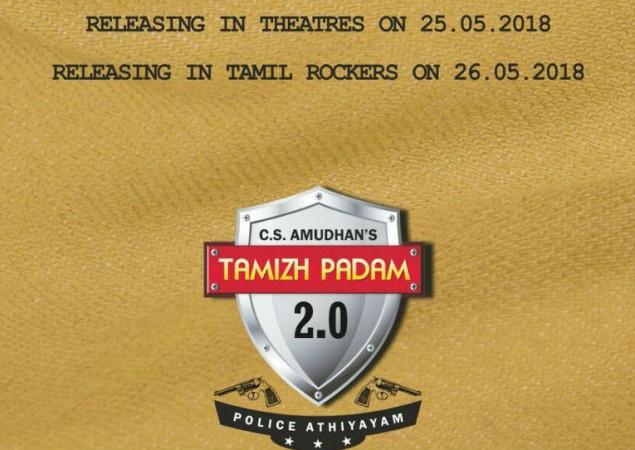 The young team of Tamizh Padam 2 is at its humorous best. Something that is evident from their latest announcement regarding the film's delay. Rajinikanth's 2.0.
It all begins with the team indirectly taking potshots at the current trend where celebrities launch first look and teasers of other actors' films online, which is slowly replacing the existing way of releasing promotional materials in organised events.
Noted filmmaker Venkat Prabhu posts a tweet, launching the 'press release' of Tamizh Padam 2, stating the reason behind the delay of the movie release.
"I am extremely houroured and excited to release the first look of the press release of #tp2.0 this is gonna be the first of its kind!! The world has never seen this!! @csamudhan u r a visionary!![sic]" he tweeted.
The Shiva and Disha Pandey-starrer was supposed to be out on May 25.
The best part lies in the press release where the team cites the technical reasons behind the postponing of the film's release.
TP2.0 has huge amounts of visuals effects (CGI) work, mainly to show our lead actors in good light. Consequently, the work on our hero's biceps & shoulder had been outsourced to a studio in LA, California & the heroine's wrinkle-removal & under-eye work to a studio in Amsterdam. Due to the massive amount of VFX required in these areas we've had to reschedule our release.

But fear not, we plan to meet you soon in theatres! [sic]
It is well known that Rajinikanth's mega-budget movie 2.0 has been delayed due to extensive post-production work and the Tamizh Padam 2 team has humorously used this to its advantage.
People are impressed with the way the team has taken a dig at the Rajinikanth-starrer upcoming flick. However, the actual reason behind delay is said to be the 48-day Kollywood strike. The bandh forced the makers to reschedule the release of their film.
Tamizh Padam 2 had first caught the people's attention after releasing a photo in which Shiva was seen meditating with enthusiastic photographers behind him. The posture was apparently inspired by Tamil Nadu Deputy Chief Minister O Panneerselvam who meditated at Jayalalithaa's memorial when the AIADMK party was split into two factions.
CS Amudhan's film is a sequel to his 2010 film Tamizh Padam.