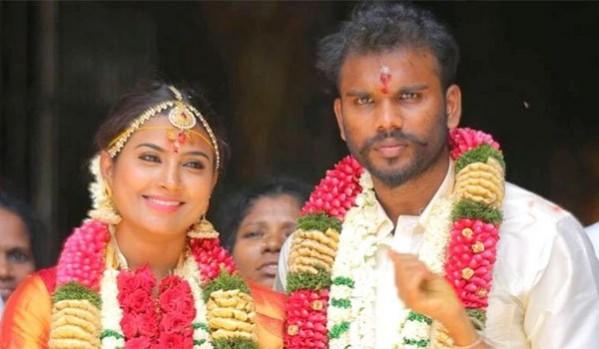 Tamil television actress and host Nandhini's husband Karthikeyan has reportedly committed suicide at a lodge in Virugambakkam, Chennai on the evening of Monday, April 3. He consumed poison with drinks and the police are investigating the case.
The lodge staffers turned suspicious after Karthikeyan did not come out of his room for a long time and when they entered the room on Tuesday (April 4) morning, they found his body inside. As per a leading national daily, Karthikeyan took the name of his father-in-law as the reason behind him taking the drastic step.
The romance between Nandhini and Karthikeyan had a resemblance to that seen in films. It was earlier reported that Karthikeyan, who owned a gym, was chosen as her life partner by her parents but she had rejected the proposal without even meeting him. But later, like in a love story in movies, they decided to meet once and cupid struck, resulting in their marriage on June 5, 2016, in Madurai. However, it is said that not all was well in their marriage and the actress has been staying in her parents' house for some time now.
Nandhini had shot to fame with Vijay TV's Saravanan Meenatchi serial. She earned the prefix 'Mynaa' from the popular Tamil TV show. The actress was also seen as a judge in stand-up comedy show Kalakka Povathu Yaaru.
The actress had appeared in movies, including Arulnithi-starrer Vamsam and Sivakarthikeyan's Kedi Billa Killadi Ranga.