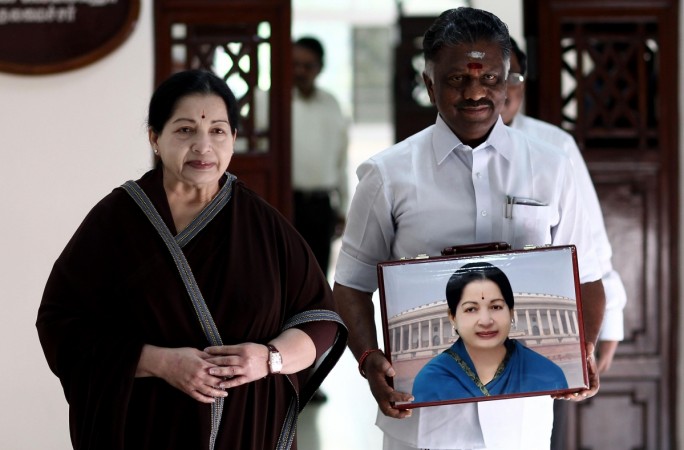 O Panneerselvam, whose position as the Chief Minister (CM) of Tamil Nadu is still under dispute, continued to issue executive orders on Thursday and seems unwilling to concede his position to AIADMK General Secretary V K Sasikala, who is to become the next chief minister of the state.
Panneerselvam issued orders on Thursday to convert late Chief Minister Jayalalithaa's Poes Garden residence in Chennai into 'Amma Memorial.' The caretaker CM said: "It is the people's wish that Amma's home should be a memorial." Sasikala continues to reside at Poes Garden that was named 'Veda Nilayam' after Jayalalithaa's mother.
According to local media reports, Panneerselvam has also decided to remove top police officers, including Director General of Police Rajendran and Commissioner of Police S George and P Thamaraikannan, by Thursday evening.
Panneerselvam, on Wednesday, also wrote to a couple of banks — Karur Vysya bank and Bank of India — in Chennai's Mylapore area asking them to not allow anyone to operate the bank accounts of the AIADMK except him, the Indian Express reported. He said he was still the treasurer of the party under relevant laws despite being sacked from the post following his fallout with Sasikala on Wednesday.
"In accordance with Bye law 20, sub-clause 5 in the party constitution in continuance of my appointment as treasurer of AIADMK party by puratchi thalaivi amma, I request you not to permit anyone else to operate our AIADMK party's current account without my written consent and instructions," Panneerselvam wrote in two separate letters to the banks.
He added that the General Secretary of the party should be elected by AIADMK's primary members under Rule 20 of the party law. "Presently the post of General Secretary of AIADMK remains vacant as the appointment to the said post, which fell vacant upon the demise of puratchi Thalaivi Amma, is yet to be made in accordance with Rule 20 sub clause 2 of the said by law," he said.
The caretaker CM also said that Sasikala was made the general secretary of the party under extraordinary circumstances. Therefore, elections to the post would be held soon, while office bearers, like members of the central executive committee, deputy general secretary, treasurer and party headquarters secretary, would continue to hold office till the new general secretary is appointed according to relevant laws.
Panneerselvam's orders as caretaker CM can be overturned if there is a change in leadership following the assembly floor test. Sasikala will be meeting TN Governor Vidyasagar Rao on Thursday at Raj Bhavan, along with the 131 AIADMK MLAs who have pledged support to her.