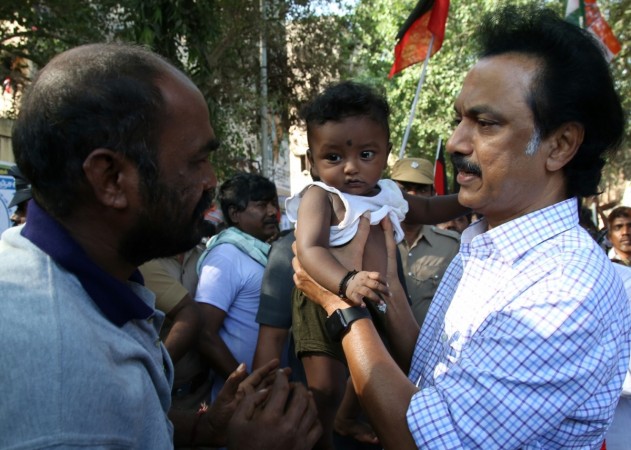 Dravida Munnetra Kazhagam MLAs launched a protest led by Stalin at the Tamil Nadu Legislative Assembly at Fort St. George in Chennai on Thursday. The MLAs are protesting against Speaker P Dhanapal who evicted them on Wednesday and suspended all DMK MlAs who were present for a week.
On Thursday, they demanded entry to the office of the leader of the Opposition. Around eight DMK MLAs escaped the suspension as they were absent from the Assembly on Wednesday. Former Minister and DMK member I. Periyasamy requested the Speaker to reconsider the suspension of the rest of his party members, but the speaker refused.
Supporting the DMK MLAs, the Congress and IUML MLAs staged a walkout.
The MLAs were suspended for disrupting the proceedings at the Assembly. The issue blew out of hand when during a discussion on grants to Housing and IT departments AIADMK member S Gunasekaran made a remark on Stalin's "Namaku Naame" programme before the Assembly elections. The DMK MLAs had asked the Speaker to expunge the remark, but he refused. Dhanapal, on the other hand, said that the remarks did not point at any particular person.
Later, Stalin said he was proud that the "Namaku Naame" programme was mentioned in the Assembly. His other remarks were expunged by the Speaker, which led to protest by the DMK legislators. Security personnel physically removed Stalin from the Assembly.
DMK leader Stalin accused the suspension to be politically motivated to prevent debate over grants to the Home Department, which is directly under Tamil Nadu Chief Minister J Jayalalithaa's purview.
Other opposition leaders condemned the action of the Speaker and demanded that the suspension be revoked.
The role of the Opposition parties is paramount when various Bills and issues are taken up for discussion. The Speaker should be impartial," said TMC leader G.K. Vasan. "The Speaker should reconsider his decision and allow the DMK members to participate in the debate," he said.
Manithaneya Makkal Katchi (MMK) leader M.H. Jawahirullah called it a "murder of democracy," while MDMK leader Vaiko, VCK leader Thol. Thirumavalavan and Left party leaders also urged for revocation of the suspension.