With the Congress unit in Tamil Nadu demanding that Chief Minister E Palaniswami prove his majority, the clamour for a floor test to ascertain how many legislator's support the current Palaniswami-led government has gained, even more, momentum on Wednesday.
EPS-OPS versus Dinakaran in AIADMK: Tamil Nadu politics is witnessing a battle of lilliputs
KR Ramasamy, leader of the Congress Legislative Party, in his letter, has said that a floor test was indeed needed as further defections between the current factions — one with Edappadi Palanisamy (EPS) and the other with Ottakarathevar Panneerselvam (OPS) — would cause more chaos in the Tamil Nadu government.
The DMK also sent a similar letter to the governor demanding a floor test on Tuesday.
The demand for a floor test has come after the ousted AIADMK deputy secretary TTV Dinakaran whisked away 19 legislators to the beachside resort — Windflower Resort Spa in Puducherry.
These legislators want the Tamil Nadu CM removed and are strongly in favour of VK Sasikala. "Yes, the remote control is with Sasikala and Dhinakaran," said the MLAs.
The EPS-OPS merger needs the support of 117 MLAs in the 233-member legislature to win the floor test. Although the AIADMK has 134 seats, with Dinakaran claiming support of at least 22 legislators, including three Independents, it could be a difficult task for the reunited party to prove its worth.
A protest was held outside the luxury resort wherein the MLAs were asked to rejoin the ranks of the two warring factions of the AIADMK combine. Lawmaker VC Arukutty from Coimbatore held a press conference and urged the MLAs in Puducherry to return to the party. "At one point, you all might have to face the people," he told the legislators.
Dinakaran has meanwhile removed a few party members who were against VK Sasikala. He has dismissed Rajya Sabha MP R Vaithilingam, Rajan Chellapa from Madurai North legislator and revenue minister RB Udhayakumar.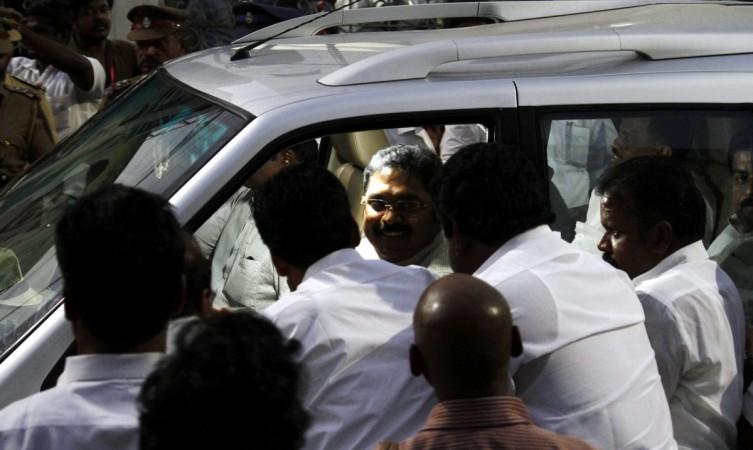 He has also expulsed transport minister MR Vijayabhaskar from party posts in Karur district and altered the party structure in Thanjavur district.
However, his act of whisking away 19 legislators to a resort in Puducherry has been supported by a few. "It is known that these MLAs have spoken out against the central government. So, I do not find it wrong that they have been secured in Pondicherry," Congress leader and legislator S Vijayadharini was quoted as saying by the Economic Times.
Meanwhile, the Supreme Court has dismissed a plea of Sasikala seeking a review of its verdict in the disproportionate assets case that sentenced her to four years in jail.