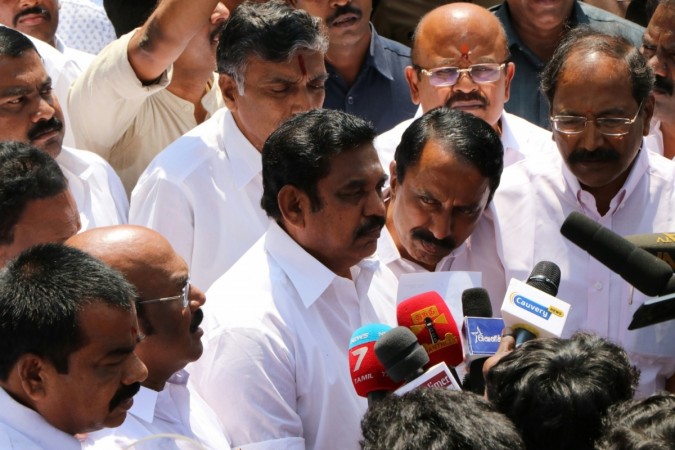 Edappadi Palaniswami, the All India Anna Dravida Munnetra Kazhagam (AIADMK) Legislative Party chief, took oath as Tamil Nadu chief minister on Thursday. However, within a day, he along with Sasikala Natarajan — who had appointed him as the AIADMK's Legislative Party chief — had been "sacked" from the party, less than a day before he is to prove a majority in the Assembly.
Also read: Sasikala convicted: Chinnamma surrenders in Bengaluru, sent to Parappana Agrahara Central Prison
Palaniswami is not expected to exactly coast through the floor test, and recent developments have only exacerbated matters for him. Here are five reasons why he might find it extremely difficult to prove numbers on the floor of the TN Assembly:
1. 'Ouster' from AIADMK: Palaniswami has been ousted from the AIADMK by its presidium chairman E Madhusudanan, who has also "sacked" Sasikala Natarajan — aka VK Sasikala or Chinnamma — from the party. That may make it just a little difficult for the current TN chief minister to prove his numbers in the Assembly.
2. Troubles for Sasikala: As if being ousted from the AIADMK was not enough, Sasikala has also been served a notice by the Election Commission over the manner in which she was chosen as the party's general secretary after the death of her mentor J Jayalalithaa. With her position weakening — she is already in jail and her nephews, whom she had brought back into the AIADMK's fold, have been sacked along with her — the tide is swinging away from her.
3. OPS becoming stronger: O Panneerselvam has been getting stronger every day since he was "forced" to tender his resignation. However, the big question now is whether he is strong enough to upstage Palaniswami.
4. DMK voting against Palaniswami: DMK acting president MK Stalin has said all 89 of his MLAs will vote against Palaniswami on Saturday. If the current TN chief minister does not have enough numbers, this move alone can lead to his downfall.
5. Entire Opposition gunning for Palaniswami: The entire Opposition is currently gunning for the AIADMK in general and Palaniswami in particular. If he fails to prove his numbers, and then Panneerselvam goes the same way, the rival parties will have a chance to return to power. Thus, the Opposition parties other than the DMK are also expected to vote against the AIADMK, except the off chance that the party has made them some political offer.