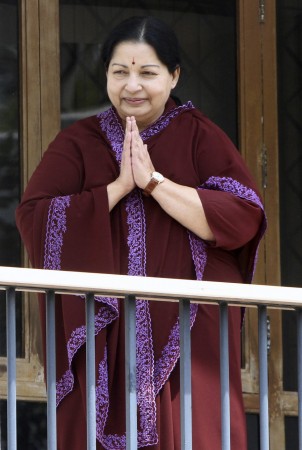 Tamil Nadu government is to distribute 6.44 lakh free bicycles to class XI students state-wide this year. The state government is to spend ₹230.72 crore on the scheme to encourage education among children.
Bicycles will be distributed to students in government schools and aided schools in Tamil Nadu. Chief Minister J Jayalalithaa inaugurated the distribution of the bicycles at the state Secretariat in Chennai on Friday. She gave away bicycles to seven students of class XI at the launch.
According to the officials in the state government, 2,86,400 boys and 3,57,600 girls will be given free bicycles during this current academic year.
The free bicycle scheme was launched during 2001-02 by Jayalalithaa for class 11 and 12 students of Scheduled Castes (SC) and Sheduled Tribes (ST), especially girls.
The scheme's objective was to encourage girls' education among SC and ST in the state, PTI reported. Later, the scheme was expanded during 2005-06, covering students belonging to all sections and is being implemented in all government and state-aided schools.
Recently, the state government also decided to set aside ₹1,100 crore to distribute free laptops to students in government high schools and colleges. This year 5.5 lakh laptops worth ₹1,100 crore will be given to students free of cost, the state officials have said.
In recent times, the Jayalalithaa-led Tamil Nadu government has been making news for introducing popular schemes like Amma canteens, Amma water, Amma salt and the latest one - Amma pharmacy. Consumers get food items and other edible goods from the government-stores at subsidized prices.
A total of 10 medical shops in seven districts were inaugurated by Jayalalithaa through video conferencing on Thursday.
The aim of the government-run pharmacies is to provide branded medicine at a discount of 10 percent to MRP (maximum retail price).
The government pharmacies have been opened in Kancheepuram, Cuddalore, Erode Sivaganga, Salem, Madurai and Virudhunagar districts. The medical shops will be expanded to 100 soon.
Jayalalithaa's government had, in its February budget, announced the plan to set up the government pharmacies. To run the government-run medical shops, ₹20 crore has been set apart from the State Price Stabilisation Fund.
Out of the 100 medical stores planned, Chennai has been allocated 10, the state government has said.
It is planned that the shops will procure medicines as per the requirement of each outlet, through a computerized database. To run the pharmacy shops, the state government has recruited a few pharmacists with licenses.