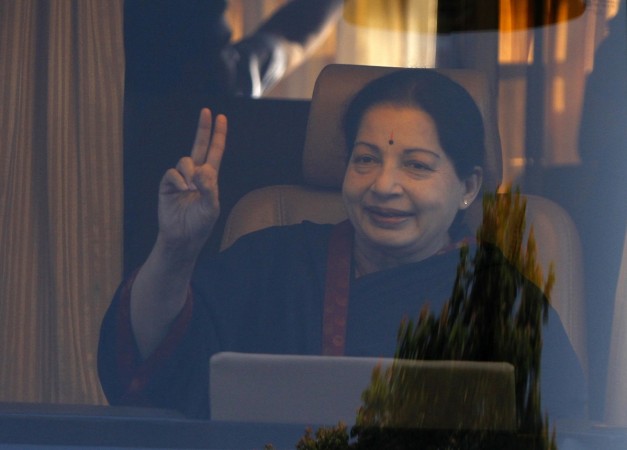 Tamil Nadu Chief Minister J Jayalalithaa on Friday filed her nominations for the 27 June Assembly bypolls, which she will be contesting from Radhakrishnan Nagar constituency in Chennai.
The 67-year-old AIADMK supremo, accompanied by her close aide Sasikala, filed her nomination at Corporation Zonal office, PTI reports.
Chennai: Jayalalithaa reaches collector's office to nominate her name from RK Nagar constituency pic.twitter.com/EGRr8SehB1

— ANI (@ANI_news) June 5, 2015
Chennai: Jayalalithaa leaves her residence to file nomination papers for by-poll elections pic.twitter.com/x9AB1z2sMK — ANI (@ANI_news) June 5, 2015
Jayalalithaa, who earlier represented Srirangam constituency, was disqualified following her conviction in the disproportionate assets case last year, is likely to make her comeback as MLA from RK Nagar seat this year.
Party leader P Vetrivel represented the RK Nagar constituency before he resigned to make way for their Amma's return.
Like the day she made her first public appearance after being acquitted in the wealth case, the roads were packed with her supporters waving the party flag and playing musical instruments on Friday as well.
Jayalalithaa and her party members are confident of winning the constituency. However, her political career is still full of hurdles as the Karnataka government has decided to appeal in the Supreme Court against her acquittal in the ₹66 crore disproportionate assets case last month.
A Bengaluru trial court had on 27 September convicted Jayalalithaa, sentencing her to four years in jail and slapping a fine of ₹100 crore. However, Karnataka High Court overturned the session court's verdict and granted bail to the AIADMK cheif on 11 May.