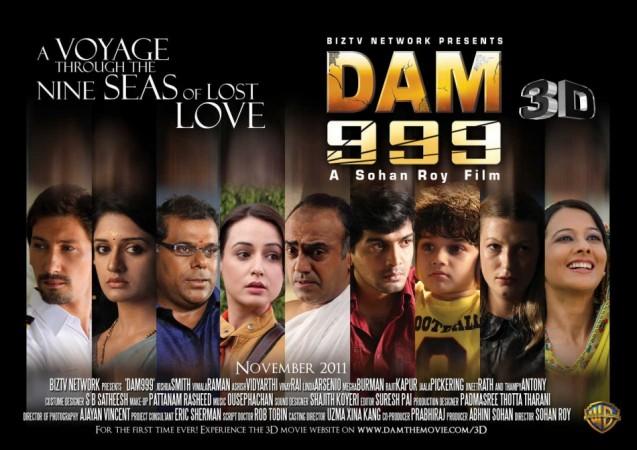 The Tamil Nadu government has banned the release of "Dam 999", with immediate effect. The film was due to release on Nov. 25.
The announcement came a day after opposition parties in the state assembly and theatre owners protested the release, claiming the film based on a dispute between the Tamil Nadu and Kerala governments over the Mullaperiyar dam could lead to tensions between the two states.
The film's director, Sohan Roy, however, emphasized that the story was not exclusively about the dam and an informed decision must only be taken after watching the production. According to the film's official Web site, the plot revolves around a corrupt mayor trying to build a new dam for his own political and personal aims; the process, however, threatens to endanger millions of innocent lives, besides the several characters caught in the situation. Roy did also admit that the film was based on real life incidents.
"Through this film I want to convey the psychological stress every individual experiences by restricting one's feelings and desires," Roy wrote on the film's Web site, "One cannot go on for long without expressing one's feelings. Like a pressure mounted DAM, concealed emotions will explode at some point of time. Words are not enough to convey the aftermaths of this outburst."
The Mullaperiyar Dam Controversy
The Mullaperiyar dam is built over the headwaters of the Periyar River in Kerala. Construction on the structure finished in 1895 and is currently operated by the Tamil Nadu government, as per the terms of a 999-year lease between the Princely State of Travancore and the British Presidency of Madras (now Tamil Nadu), in 1886. According to the deed, the Presidency had the right to divert all waters of the Mullaperiyar and its catchment to its territory for 999 years.
In 2006, the Supreme Court allowed for an increase in the dam's storage levels to 142 feet (43m). The Kerala government, however, defied the order, promulgating, instead a new Dam Safety Act, citing structural weakness of the dam as a reason. They offered to build a second dam, at a mutually agreeable site. The Dam Safety Act was not objected to by the Supreme Court. The Tamil Nadu government, however, did challenge the proposition, claiming they suspected ulterior motives on the Kerala government's part.
Check out the official trailer of "Dam 999"