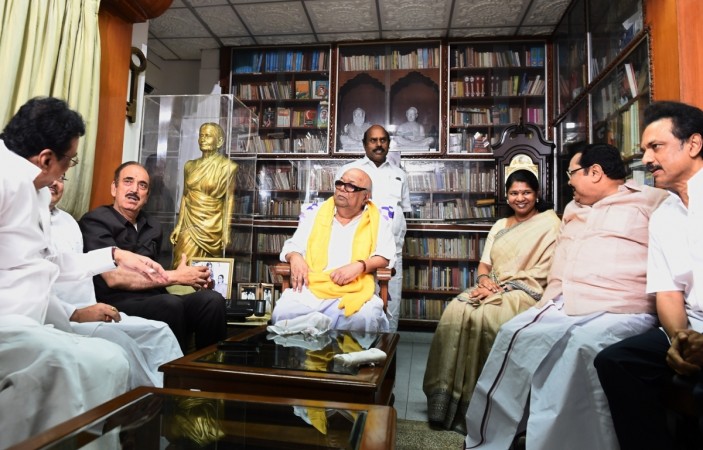 The Congress will contest 41 of the 234 seats in the Tamil Nadu Assembly elections in alliance with the Dravida Munnetra Kazhagam (DMK), the parties declared Monday. However, the constituencies the Congress will contest have not been decided yet.
The seat-sharing deal was finalised Monday after senior Congress leader Ghulam Nabi Azad visited DMK leader M Karunanidhi at his residence. The two parties had parted ways in 2013 on the Sri Lankan Tamils issue. The DMK had quit the government and the UPA arguing that the government allowed the U.S.-backed United Nations Human Rights Council's resolution on cruelty against Tamils in Sri Lanka to be diluted, the Hindu reported.
"Under the leadership of Karunanidhiji, we had two meetings. We have signed a deal, granting 41 seats to the Congress. I am sure, that under the leadership of Sonia Gandhi at the national level, and Karunanidhiji at the state level, we will be able to form the government. The AIADMK has not been in power for two consecutive terms in the last 20 years. This time, it's the DMK's turn to form the government under Karunanidhiji's leadership [sic]," Azad was quoted as saying by the Hindustan Times.
The Congress, which has come down to contesting 41 from 63 seats in the 2011 Assembly elections, had threatened to go it alone if the DMK did not agree for more than 30 seats, the HT reported. The party wanted to contest at least 40 seats to increase its vote share. It was, however, prepared to get fewer number of seats if the Desiya Murpokku Dravida Kazhagam (DMDK) had joined, a senior leader told the Hindu. The DMDK, however, did not sign up with the DMK. It formed an alliance with the People's Welfare Front and is facing a crisis of its own as many of its leaders have quit the party to join DMK before the May 16 Assembly polls in Tamil Nadu, according to the Indian Express.
DMK treasurer and former deputy chief minister MK Stalin was quoted as saying by HT "the alliance will win as the people are vexed, and want a change." The BJP, on the other hand, is having a hard time finding coalition partners after Jayalalitha and the DMDK refused to tie up with them.