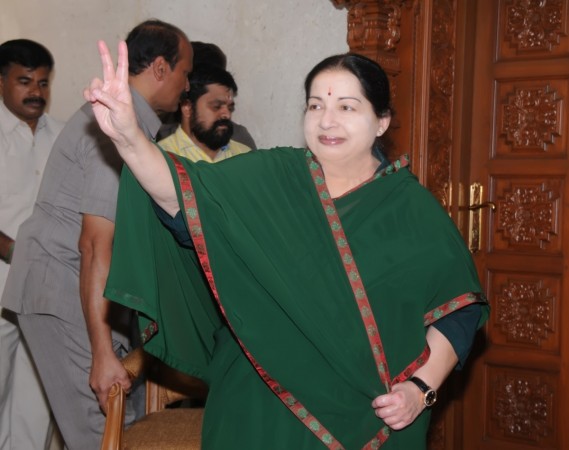 J Jayalalithaaa, the chief minister of Tamil Nadu and AIADMK supremo, broke a 32-year jinx by winning a mandate for a second consecutive term, apart from proving almost all psephologists wrong who had predicted a victory for her archrival party DMK.
The All India Anna Dravida Munnetra Kazhagam (AIADMK) won 134 of the 232 Assembly seats for which elections were held on Monday. The Election Commission of India postponed polls in two constituencies on account of electoral malpractices. The DMK won 89 while eight seats went to the Congress.
It was in 1984 that the AIADMK won a second term when MG Ramachandran was the chief minister of the state.
Jayalalithaa expressed her gratitude to voters on Thursday from her Poes Garden residence after feeling confident of winning a second term.
"I am overwhelmed by the resounding victory the people of Tamil Nadu have given us. My party and I are indebted to the people of Tamil Nadu for giving this historic victory," she told her supporters, PTI reported.
Most of the exit poll surveys had written her off.
Indian Prime Minister Narendra Modi congratulated her almost six hours ago.
Had a telephone conversation with Jayalalithaa ji and congratulated her on her victory. Also conveyed my best wishes to her. @AIADMKOfficial

— Narendra Modi (@narendramodi) May 19, 2016
An NDTV story caption "DMK ahead in Tamil Nadu, Jayalalithaa set to lose: Poll Of Exit Polls" said that most of the exit poll surveys had given the Dravida Munnetra Kazhagam (DMK) a clear majority, except C Voter that predicted 139 seats for Jayalalithaa.
The party had contested in 227 constituencies, leaving the rest of the seats to its allies.
In a state where political parties have a penchant for freebies to lure voters, Jayalalithaa promised free electricity, mobiles, free laptops and internet to gain an upper hand over her rivals, who too had their own offer of freebies.
Till a few months ago, Jayalalithaa was embroiled in the Rs. 66-crore disproportionate assets (DA) case that seemed to adversely affect her electoral prospects.
The Karnataka High Court had reversed a lower court order convicting her of various charges in May 2015. The Karnataka government moved the Supreme Court against the judgement and hearing commenced at the apex court from February this year.
In the 2011 state elections, she had offered 4 gm of gold, Rs. 25,000 as marriage assistance, apart from other things to sway voters.