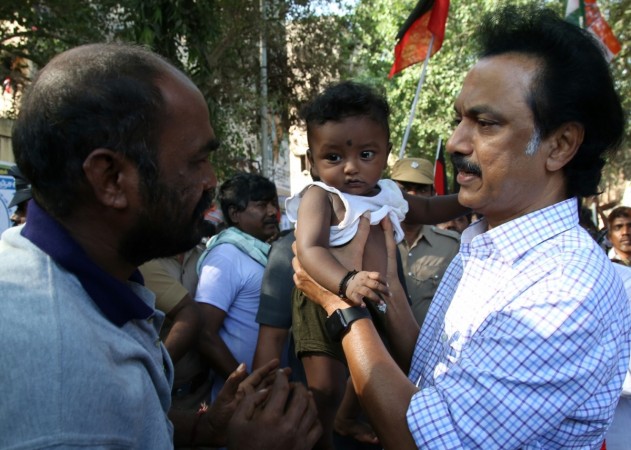 The Tamil Nadu Assembly Speaker P Dhanapal on Wednesday expelled all 89 MLAs belonging to the Dravida Munnetra Kazhagam (DMK), including MK Stalin, from the House for a week, following "continuous disruptions" of the proceedings of the Assembly in the Legislature.
The DMK called this action an "example of the deteriorating law and order situation in Tamil Nadu."
It was Finance Minister O Panneerselvam who had sought that all DMK MLAs be suspended because they were disrupting the day-to-day proceedings of the Assembly. The DMK MLAs were reportedly creating ruckus over a disparaging remark by AIADMK member S Gunasekaran on a campaign by Stalin.
Gunasekaran had, without explicitly naming Stalin, commented on his "Nammakku Naame" rally, taken out before the Assembly elections in the state. The Opposition leaders wanted this remark struck off the records.
A video clip of the DMK MLAs being marshalled out shows Stalin, the leader of Opposition in the TN Assembly, being carried out of the House by marshals, before being set on his foot once they were outside the Assembly.
The scene seemed oddly reminiscent of the 2001 arrest of his father and former TN chief minister M Karunanidhi. A video clip from back then had shown the then-septuagenarian leader being carried out of his house by the police.
Watch the video of Stalin being marshalled out of the house here: