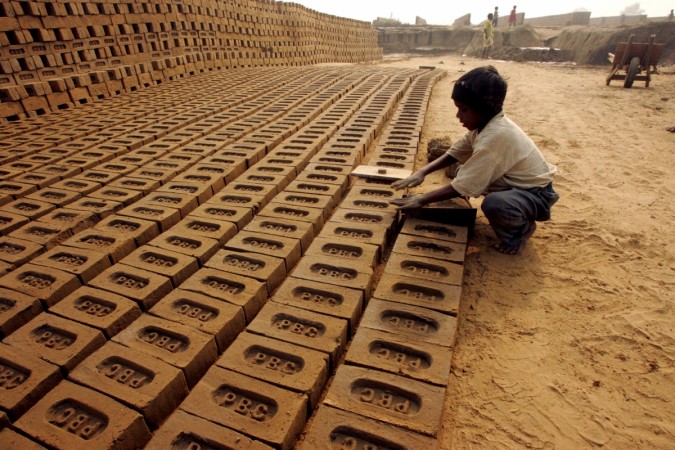 At least 329 bonded labourers, including 89 children and 127 women, were rescued from a brick kiln at Pudukuppam in Tiruvallur district on Saturday. All the workers had come to Tamil Nadu from Odisha in December last year to work at the site, whose owner absconded before the raid.
The workers were rescued after the district officials received a tip off from NGO International Justice Mission India, which works to free bonded labourers. "One of them was beaten up and was admitted at the Government Stanley Hospital after which we came to know about their plight," the New Indian Express quoted NGO spokesperson Mathew J as saying.
Meanwhile, Tiruvallur police have registered an FIR against the owner of the GDM brick kiln, Munusamy, and the agents from Odisha under Sections of the Bonded Labour Act and 370 (5) of IPC (immoral trafficking), 343 (wrongful confinement), 374 (unlawful labour) of IPC. They are now on a lookout for a total of six accused.
Munusamy was arrested on similar charges in February last year after revenue officials rescued 333 bonded labourers from his brick kiln. However, he was later released on bail.
Underpaid labourers
The rescued labourers said they were given an advance amount of Rs. 12,000 to Rs. 15,000 and were promised a pay of Rs. 350 per day. However, they are paid between Rs. 20 to Rs. 120 for a day of labour.
"We were promised that we would be paid everyday and would be returning after five-six months, after which, another lump sum of about '20,000 would be given [sic]," rescued worker Neru Rana told the NIE.
"I was kicked and beaten with a slipper when I said I could not work as I was pregnant," the Hindu quoted a four-month-pregnant woman who came to Tiruvallur with her husband from Bolangir district of Odisha, as saying.
"I pleaded with him [brick kiln owner] that I would work instead of her, and asked him to excuse my wife but he just would not listen," her husband said. He was promised a pay of Rs. 350 per day, but received only Rs. 20 every day.
The labourers are from Bargarh, Bolangir, Nabrangpurpur, Naupada, Kalahandi districts of western Odisha. They have also been working overtime.
"I was told we have to work from 8 a.m. But, after coming here, we are made to work from 3 a.m. to 11 a.m. and again from 2 p.m. to 6 p.m. They have been giving us Rs. 120 for six days against the promised Rs. 350 a day," the Hindu quoted Kashiram Kyal, a labourer from Naupada district, as saying.