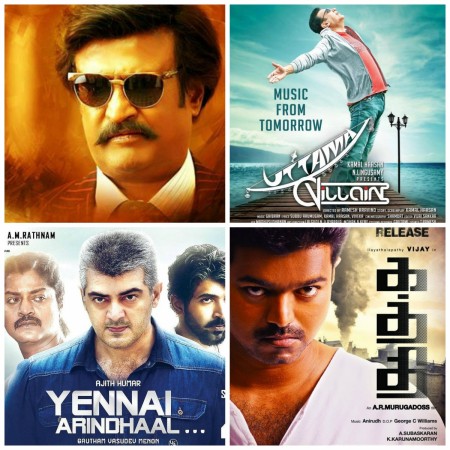 Tamil film producers' decision to release big movies only during the festive season has come as a shock to many and led to massive debate among actors, distributors and the theatre owners.
According to the latest rule, any big movie that crosses the budget of Rs 15 Crore will be released only on 10 important days of the year, whose dates are: 14 April, 1 May , 15 Aug , 17 Sept, 21 October, 10 November (Diwali), 25 December and so on.
With this new rule, the association expects the big movies to fight hard with each other. This rule has led to many speculations and controversies as well; many believe this will make it tougher for big budget movies as it will be difficult to fit in all big movies in just ten days, adversely affecting the box office collection of the movies.
This move is seen by many as an attempt to provide enough screens for small movies, whereas another section of the industry claims that this rule will adversely affect the industry as no big days come in the first three months of the year.
Dhananjan Govind, Chief of UTV Movies South, said that the decision is going to be tough for big films.
Tamil Film Producer Council brings in new rule that only on 10 important days high budget films can be released (budget > 15 crore) from now

— Dhananjayan Govind (@Dhananjayang) March 8, 2015
The 10 festival/important days from now: April 14, May 1, Aug 15, Sept 17, Oct 21, Nov 10 (Diwali), Dec 25. Going to be tough for big films — Dhananjayan Govind (@Dhananjayang) March 8, 2015
As per new Tamil Film Producer council rule, big bud. films (> 15 cr) are going to compete with each other on these days & affect each other

— Dhananjayan Govind (@Dhananjayang) March 8, 2015
This has also led to confusion among many as the transparency of the budget details from the producers is not assured. Considering this actor Sharath Kumar recently made a statement at function about the need to overhaul the movie-making system for the betterment of entertainment industry. Meanwhile, some sources close to industry claims that there would be further discussion between the Producers' council and other associations of the industry. They hope that the council would ease on these rules.
@Dhananjayang @sidhuwrites @gopalbalaji This is what I spoke at Cheran ' s function that we have to overhaul the movie making system — R Sarath Kumar (@realsarathkumar) March 8, 2015
@shivaggi thank you I spoke my true mind, hope we can together bring about a change for the survival of the entertainment industry

— R Sarath Kumar (@realsarathkumar) March 8, 2015