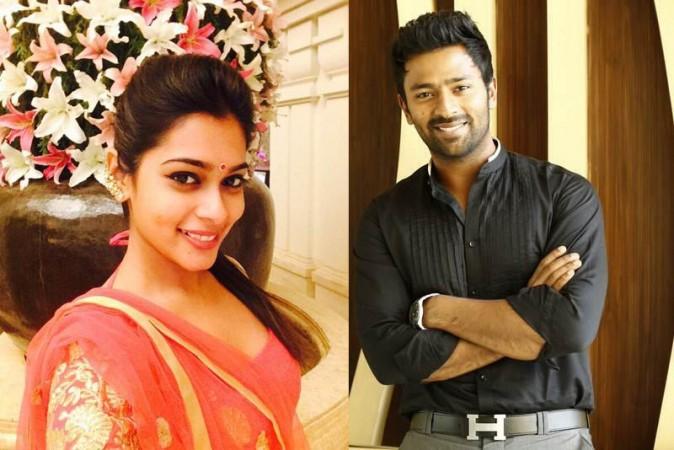 Popular Tamil actor Shanthnu Bhagyaraj, son of actors Bhagyraj and Poornima Bhagyaraj, will marry television anchor Keerthy.
Actor-filmmaker Bhagyaraj in a press release stated that Shanthnu and Keerthy's marriage will take place on 21 August, 2015. The ceremony will be a private affair and will take place at a temple.
Family, relatives and close friends will attend the wedding ceremony.
On 22 August evening, a grand reception will be held for the whole film fraternity at Sree Vaaru Thirumamandapam, Vaanagaram, Chennai.
Keerthy is the daughter of the famous choreographer Jayanthi Vijayakumar and is popular for her anchoring in television show "Maanadu Mayilaadu", which is aired in Kalaignar TV
In 2013, rumours of Shanthnu and Keerthy tying the knot were doing the rounds, but the actors denied the reports. He had also requested the media not to exaggerate the news as marriage was not on cards then.
Meanwhile, the star couple has now been flooded with congratulatory messages from well-wishers. At the same time, Shanthnu is also awaiting the release of his Tamil movies "Vaaimai", "Amali Thumali" and a Telugu movie "Love in Hyderabad".
Press Release Of Director K Bhagyaraj Son Shanthanu Bhagyaraj Marriage pic.twitter.com/fMJoQblb5B

— Nikkil Murugan (@onlynikil) April 24, 2015
Press Release Of Director K Bhagyaraj Son Shanthanu Bhagyaraj Marriage - Page 2 pic.twitter.com/kzAaFCgD8U

— Nikkil Murugan (@onlynikil) April 24, 2015
@imKBRshanthnu ..hey super happy to hear the news!!congratulations to u and Kiki!!!! — priyamani (@priyamani6) April 24, 2015
@imKBRshanthnu Congrats buddy. God bless u both.

— Krish (@krishsinger) April 24, 2015
Congratulations dear @imKBRshanthnu on the wedding announcement come machi join the club and wish u the bestest — Prasanna (@Prasanna_actor) April 24, 2015
@imKBRshanthnu congrats machan. Super happy for you :)

— Sundeep Kishan (@sundeepkishan) April 24, 2015
@imKBRshanthnu congrtsssss..Another one in d gang is getin hooked up...hav a fantastic maried life keerthi n sonu...i hav to do shopin noww — DD Neelakandan (@DhivyaDharshini) April 24, 2015
@imKBRshanthnu congratulationssssss dorlinggggg... To the both of u..!!! Lots of love and happinessss..!!

— varu sarathkumar (@varusarath) April 24, 2015