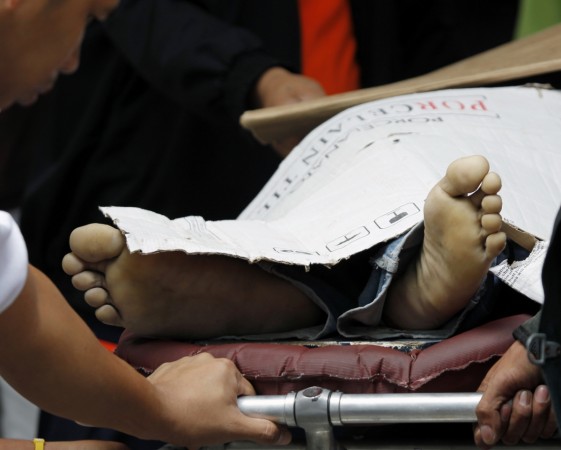 Television actor Sai Prashanth was found dead at his residence Sunday, March 13. It is reported that he ended his life, and the reason is suspected to be depression.
The police were quoted by the Indo-Asian News Service as saying that the actor had committed suicide at his residence. People close to the deceased have told the New Minute he was depressed due to financial and family pressure.
Police sources have told the New Indian Express that Sai Prashanth mixed poison in his drink. The actor was found dead at his home in Valasarawakkam. His body has been taken to Kilpauk Medical College for post-mortem and the report is awaited.
He remarried three months ago after divorcing his first wife, the daily adds.
Meanwhile, a suicide note purportedly written by the actor to his wife Sujitha is doing the rounds on social media. It reads he does not blame anyone for his suicide. He also apparently pointed out his passing would not create any trouble for her and her jewellery along with Rs 5 lakh would be returned.
Sai Prashanth purportedly requested her to "leave her anger" — let go of her rage — at least after his death. He also apparently wrote about his daughter eight-year old Rakshitha, and claimed he was a good father.
The actor thanked Radhika Sarathkumar of Radaan Mediaworks India Limited for her support. He referred to her as amma (mother) in the letter.
Letter written by Actor #SaiPrashanth before committing suicide. pic.twitter.com/hNtOU8edq4"

— N.k.pallavi (@nkpallavi82) March 14, 2016
He was last seen on the sets of "Thamarai" by his friends March 10.
Sai Prashanth started his career as a video jockey and graduated as actor appearing in television serials like "Annamalai," "Selvi" and "Arasi." He also acted in about 10 films, including "Mundhinam Paar-theney," "Neram," "Thegidi" and "Vadacurry."
He was also seen in reality shows like "Jodi No 1" and hosted "Dil Dil Manadhil."
His mother Lalitha Subhash was the former president of Tamil Nadu BJP and was also a member of the Regional Censor Board.
His death has come as a big shock to his friends and fans, who have shared condolence messages on Twitter. Here are some of the posts:
Shanthnu Buddy tweeted: Shocked to hear about actor #SaiPrashanth How ppl jus carelessly end their life, nt thinking about their loved ones ! #RIP
Vivekh actor wrote: Life is a battle. That shd b fought n won.suicidal feel is a weak moment. We shd cross it.negativity shd b overtaken by positivity, folks! A beggar with leprosy,a criminal,rapist,looter,terrorist r living.y shd an aspiring innocent youth commit suicide setting bad example.think!
Ramesh posted: Shocked to know TV Actor #SaiPrashanth who did movies #Vadacurry , #Neram etc committed suicide.. May his Soul RIP!
Ashwin K. wrote: RIP #SaiPrashanth. Couldn't believe the news when I heard it. He Always encouraged me when I worked with him on Megha.gone too soon.
Preeti tweeted: RIP #SaiPrashanth . I know he had some personal problem. Chatted with him in fb. He married for the second time. Too quick decision