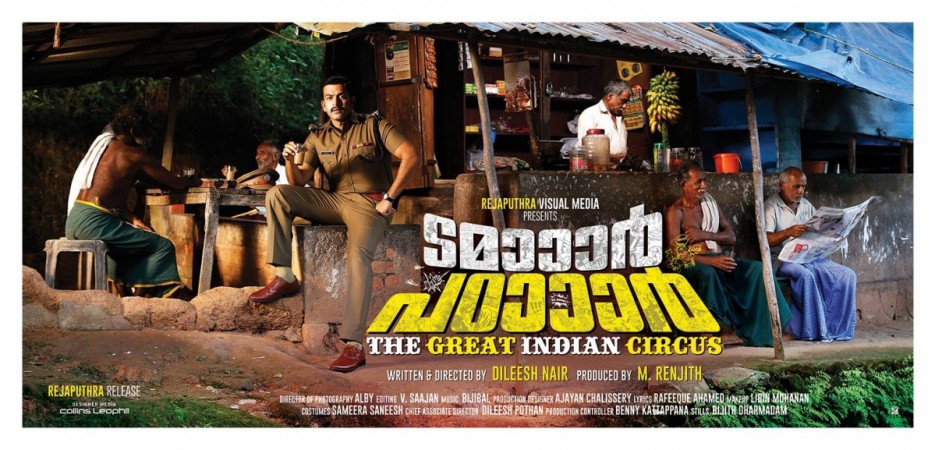 Prithviraj starrer "Tamaar Padaar" has opened to negative reviews. The film directed by scenarist Dileesh Nair also has Baburaj, Chemban Vinod Jose and Srinda Asha in pivotal roles. The script has also been penned by Dileesh Nair.
The cinematography of the film is handled by Alby and the music has been composed by Bijibal.
"Tamaar Padaar" is produced by M Renjith under the banner of Rejaputhra Visual Media.
The film has failed to impress critics in terms of scripting, direction and the storyline. However, Prithviraj has managed to make a mark with his unheroic performance. The music by Bijibal has also managed to impress audience and critics alike.
Here are the reviews of "Tamaar Paadar" by various critics.
"The background narration is what takes the cake in the movie, Prithviraj's twisted Trivandrum accent warrants for a few laughs. Dileesh Nair's direction should have been crisper because half way through the audience almost wondered if they were watching the right movie. The first half is spawned out while the second half is crammed with information, sentiment and morals being doled out. Music and background score by Bijibal is good, the "thaadi song" which glorifies different kinds of beards is awesome. Prithviraj looks hot as ever and the absence of a heroine is never felt."- Desi Martini.com
"The whole affair starts on a serious note. It's a subject of national and even international significance. With an exotic aura and backdrop, we wait for something to 'happen'.But soon, the focus shifts to a remote subject, and it is pursued thoroughly. But that is not the irksome factor. The area where it fizzles out is the failure to reach a culmination of any sorts; either in comic sequences or in dramatic nuances. Incoherent script and the feeble construct of emotional scenes have rendered the movie a naiveté piece of art. Even the comic scenes are disastrous, with dialogues and counters, which are disturbingly funny. Besides, the sarcastic narrative style of journalist-lawyer Jayashankar, who was roped in to render it an epochal grace, fails to weave a magic. By the time the two ends of the tale are tied together, it is far too late to lift a storyline that has been marred with distorted proportions." –On Manorama
"The script by Dileesh Nair and Shyam Pushkaran fails to make the plot engaging. The major minus point of the movie is the extremely weak and logic less story line. The movie fails to create an impact and falls into slow pace from the beginning itself. Direction by Dileesh Nair fails to make the movie impress and completely follows the soul less script. The movie is doubtlessly a bad choice for the directorial debut for the acclaimed scenarist. Alby's cinematography is fine. The editing doesn't meets the standard as the movie falls completely out of rhythm. Bijibal's songs are fine; while he excels with the background score. Verdict On the whole, Tamaar Padaar is a total disappointment." - Filmibeat