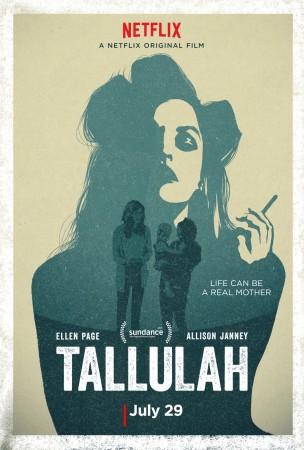 Some of the strongest relationships in life can also be very fragile. That's one way of describing "Tallulah," the Ellen Page-starrer that's set to release on Friday, July 29, on Netflix.
The film, which premiered at the Sundance Film Festival 2015, is directed by Sian Heder, who has made fans fall in love with the tragic and complex characters of "Orange is the New Black." Heder, who writes for the Netflix TV series, makes her directorial debut with "Tallulah," and if the recently released trailer captures one thing, it is a woman's experience.
"Tallulah" tells the story of young vagabond, Lu (Ellen Page), who lives in a van and is fiercely independent in her hand-to-mouth existence. When a chance encounter incites her to impulsively "rescue" a baby from a negligent mother, Lu, at a loss for what to do, turns to the only responsible adult she knows: Margo (Allison Janney), who mistakenly believes she's the child's grandmother. Tammy Blanchard, Zachary Quinto, John Benjamin Hickey and Uzo Aduba, also round out the cast.
Dealing with a divorce and a runaway son, Margo feels as unanchored as Lu, and they begin to take care of the baby together. But as Carolyn begins searching for her taken child with the help of her protective services agent (Uzo Aduba), things become much more complex.
Page stars as Lu, a nomadic young woman who survives day to day in her van while scavenging for food where she can. The only "responsible" adult in her life (if you can even call it that) is Margo (Janney), whose son, Lu says, stole all her money. It's her Lu turns to after she plucks an infant from a neglectful mother in a hotel room, leading Margo to believe the baby is her grandchild. The experience teaches Lu about motherhood, responsibility, and the importance of relationships.
"Tallulah" tells the story of a woman who "saves" — OK, kidnaps — a toddler from her neglectful mother, and then decides to raise it alongside her ex-boyfriend's lonely mother, who doesn't know that Lu isn't really the baby's biological mom. While kidnapping is never something anyone can condone, you have to feel for Lu, who does a pretty awful thing in hopes of doing the right one.
Watch the trailer here: