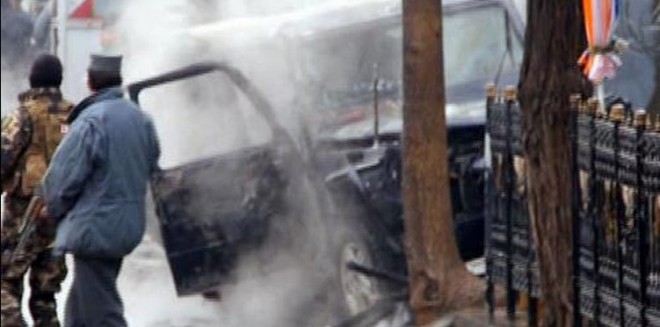 One person was killed and another grievously wounded after a suicide bomber in a car packed with explosives crashed into a Turkish embassy vehicle in Kabul on Thursday.
The suicide attack took place near the gates of the Iranian embassy opposite the Turkish mission building in Kabul. Since the attack took place near the Iranian mission, there were doubts that the target could have been an Iranian official.
Afghan deputy interior minister Mohammad Ayub Salangi later clarified that the suicide bombers' target was the Turkish vehicle. "The target was a Turkish Embassy vehicle. One person is wounded and the driver possibly killed," Salangi told media outside the Iranian Embassy, Associated Press reported.
Taliban militants have claimed responsibility for the suicide attack. This is the first time that Turkey has been targeted by the Taliban militants.
In January, a Taliban suicide bomber had targeted an SUV carrying foreign nationals, who were part of the European Union Police Mission in Kabul. One person was killed and 10 were wounded in the suicide attack.
#Breaking 1 Turkish national killed,several people wounded,in #Taliban suicide car bomb attack in #Kabul #Afghanistan pic.twitter.com/O8TknDSAAr

— Conflict Reporter (@Conflict_Report) February 26, 2015