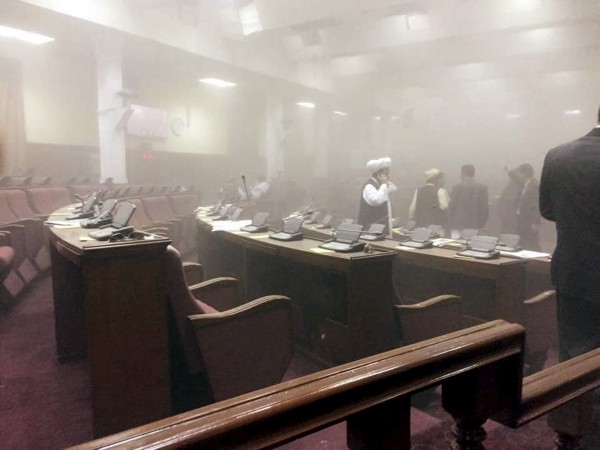 An Afghanistan soldier has become a national hero after reportedly taking down all six Taliban attackers during Monday's attack on the Afghan Parliament that left five people dead.
Eisa Khan, a 28-year-old Afghan National Army Sergeant, reportedly shot dead six Taliban attackers in a suicide bombing and gun attack on the Afghan Parliament.
A car bomb was detonated by one Taliban fighter outside the gates of the Parliament and six gunmen then tried to enter the compound.
However, the Parliamentary security staff was able to keep the attackers from entering the compound till the Afghan Army forces arrived, according to Afghanistan's TOLO news agency.
The armed forced then took down the attackers following an hour-long gunbattle, and local media reported that it was Eisa Khan who was responsible for killing all the Taliban attackers.
"I am very happy to be alive and proud I could defend my country. I was prepared to defend my country with every drop of blood in me," Khan told TOLO News.
KABUL Hero Sgt Eisa Khan brought down 6 insurgents in Monday's attack. Live interview 6.30pm. http://t.co/MMT5oLTBPL pic.twitter.com/MhqPysBGyB

— TOLOnews (@TOLOnews) June 22, 2015
Afghanistan's Khaama Press also reported on Khan's heroics.
Reuters, however, reported a slightly different version of the attack.
The report quoted Eisa Khan as saying that he shot dead three attackers, while the rest were killed in a gunfight between the forces and the jihadists.
"I knew that it was the Taliban from the first moment. I grabbed this gun and shot three of them dead," Khan told Reuters.
Nevertheless, Khan has been hailed as a hero for keeping the Taliban at bay from the Parliament, at a time when the country's new defence minister was to be decided.
Five civilians, including a woman and a child were killed in the attack, while 30 were wounded, local media reported.
None of the members of Parliament (MPs) were reportedly hurt in the attack.