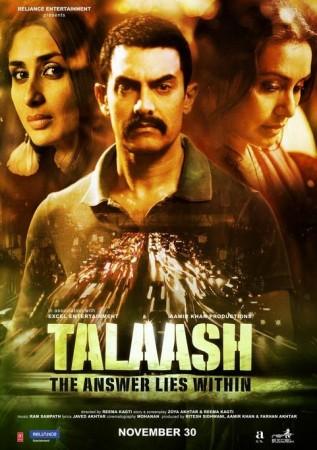 This week's release is the suspense thriller, "Talaash: The Answer Lies Within," starring heavyweight actors Aamir Khan, Rani Mukherjee, Kareena Kapoor and Nawazuddin Siddiqui. Directed by Reema Kagti, "Talaash" is a murder mystery which has impressed critics.
Producers: Ritesh Sidhwani, Aamir Khan, Farhan Akhtar
Director: Reema Kagti
Cast: Aamir Khan, Rani Mukherjee, Kareena Kapoor
Here what critics' have to say about the murder mystery:
Taran Adarsh of Bollywood Hungama said: "TALAASH stands on its feet for the reason that it merges conspiracy, tension and tragedy with dexterousness. Add to it the turn of events, the razor sharp dialogue and of course, the suspense... TALAASH takes the suspense angle to a new altitude altogether, emerging into an exceptionally constructed mystery.
TALAASH is dramatic and absorbing, both. Director Reema Kagti takes up an attention-grabbing premise and along with co-writer Zoya Akhtar spins a tale that makes the viewer a participant of sorts.
On the whole, TALAASH is an outstanding film. A taut psychological thriller that keeps you guessing till the end, it leaves you spellbound, leaves you mesmerized, leaves you with an exclamation, 'Wow!'. An absolute must watch for all movie buffs. You just can't afford to miss this one!"
Saibal Chatterjee of NDTV said: "By no means is Talaash the end of your search for the perfect whodunit. But there is so much going for this compelling, slow-burning, well-acted tale set in the dark, grimy underbelly of Mumbai that you can barely take your eye off the screen.
As a suspense thriller with a paranormal edge, it certainly isn't action-packed. Yet Talaash, which relies far more on the intricacies of psychological drama than on the disquieting impact of visceral shocks, is riveting all the way through to its surprising, if a tad dissonant, end.
The greatest triumph of Talaash is in the manner in which it delineates its gallery of intriguing supporting characters. None of them is a mere blur.
The perfectly modulated performances by the lead trio give Talaash its frisson. Aamir Khan sinks his teeth into the cop act with effortless ease but underplays his hand to accentuate the introspective nature of the troubled man. A deglamorised Rani Mukherji plays her role with finesse and a great sense of empathy, while Kareena Kapoor is at her seductive best."
Sukanya Verma of Rediff said:
"And there are three sub-genres to it -- one which deliberates on the technique and scheme of an execution, the other which relies on the shock and surprise of who did it and finally and perhaps most underestimated is the one that deals with the motive fuelling the thrill of investigation.
And it is this very psychological post-mortem of why over who that dictates the immensely fascinating and absorbing developments of Reema Kagti's Talaash.
Talaash is a riveting combination of sentiment and suspense. And it's certainly raised my bar for Reema Kagti as a filmmaker."
Trisha Gupta of First Post said:
"So the film begins with an accident. A famous young man is found dead, and a quietly determined inspector is put on the job. But his investigation throws up more questions than answers.
I reserve my last words for Aamir Khan: if, like me, you have a lingering memory of the affecting boy-man with inner steely core - the one you fell in love with way back in Raakh, or Dil, and have been wondering about for years, you need look no further. Your Talaash has ended."
Lisa Tsering of Hollywood Reporter said:
"Some thrillers are described as taut. Talaash isn't taut, but loose and messy, the better to allow life's jagged edges to disturb the muscular, controlled world that its protagonist, Surjan "Suri" Shekhawat, has created for himself. When those inevitable cracks appear in Suri's world, the film grabs on tight and doesn't let go.
Bottom Line: Indian thriller surprises with emotional depth and a twist ending."
Robert Abele of Los Angeles said:
"The provocative noir experience that "Talaash" promises, with its jazzily scored, moodily lighted opening montage of a Mumbai red-light district at night, is nowhere to be found once this meandering mystery begins.
The normally charismatic Khan is almost unbearably morose here, but Mukerji manages to apply some radiance to her melancholy. Ultimately the movie's many strands come together for a final twist, but it's too little too late for this regrettably mediocre Bollywood import."