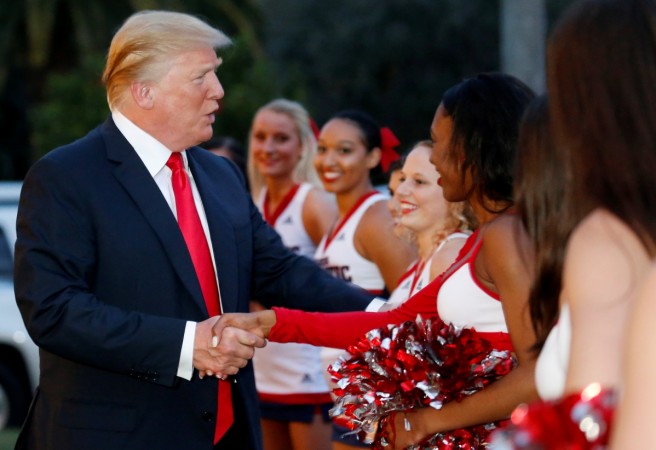 Who said the US President does not have time for some fun? Donald Trump and First Lady Melania Trump hosted a Super Bowl party at their Florida Golf Club on Sunday for the second consecutive time during his Presidential term.
At a time when his marriage is said to have hit rocky waters, Trump was pictured along with scantily-clad college cheerleaders as they performed to "Shut up and Dance" and "Hail to the Chief" for the First Couple.
Hosting the party for the second time in a row at the Trump International Golf Club, the US President shook hands with the marching band and cheerleaders from Florida Atlantic University.
As the National Football League (NFL) Super Bowl kicked off between New England Patriots and Philadelphia Eagles at Minneapolis, Trump broke a 14-year-old tradition by not participating in a post-Super Bowl interview with the network broadcasting the game.
The party hosted at West Palm Beach witnessed Trump praising the cheerleaders. "Fantastic. So great, thank you so much," the Sun-Sentinel quoted the President as saying. He added: "That was so great, great job, great talent, enjoy the game."
As the cheerleaders sang and danced their heart out with pom-poms and kick line, Trump paid no heed to questions that were hurled at him during the cheerleaders' performance. One such question that he ignored was which team he supported for the match.
Despite not answering the question, Trump has often said he would want the New England Patriots to win as he shares a camaraderie with the team's owner Bob Kraft. He is also reportedly friends with the team coach Bill Bellichick and Tom Brady, one of the most famous quarterbacks in modern-day NFL.
As per reports on Bustle, his friendship with Brady, however, hit a roadblock as the quarterback was a part of the controversial incident where players kneeled in protest during the national anthem. Trump retorted to this incident and called them as "sons of b****es."
The match ended as Philadelphia celebrated victory over their rivals New England Patriots winning their first ever Super Bowl Championship, denying the Patriots a sixth championship.